The Role of Civil Society and the United Front in China's Evacuation From Ukraine

This article discusses civil-society groups for Chinese citizens living abroad from the Chinese Communist Party's perspective of these groups as a resource for achieving party-state goals. The purpose of this report is to understand how Chinese authorities may mobilize and rely on such associations in future crises. This research should not be misconstrued as a condemnation of overseas Chinese associations or an accusation that such groups are purely tools of the party-state. The men and women who volunteered, sometimes in spite of danger to themselves, to help evacuate and resettle Chinese citizens from Ukraine made significant humanitarian contributions to the preservation of life in this war.
Russia's invasion of Ukraine on February 24, 2022, initiated a test of the Chinese Communist Party's (CCP) ability to fulfill promises made to protect the Chinese people. To fulfill its commitments and demonstrate that "the homeland is always behind [its citizens]", the CCP's United Front (统一战线) [1] mobilized civil-society groups for overseas Chinese nationals (referred to below as "overseas Chinese associations") to support evacuation efforts. Chinese associations in Ukraine organized evacuation convoys in coordination with China's diplomatic missions. Subnational united front groups in China "guided" evacuation support work as well as information collection about Chinese citizens in Ukraine. Chinese associations in other European countries helped comfort and resettle evacuees. 
The CCP's tactics for defending and advancing its goals and China's foreign policy rely, in part, on the party's ability to mobilize ordinarily benign industrial, commercial, cultural, civil-social, and other resources as instruments of the party-state. This is seen, for example, in the Chinese military's amphibious landing exercises that make use of commercial roll-on/roll-off ships, as well as in past efforts to assert sovereignty over disputed maritime spaces. Civil-society groups in particular are being used by the CCP to facilitate foreign influence activities and technology transfer efforts. The evacuations from Ukraine offer a window into how the United Front mobilizes civil society outside of China in a time of crisis and into the coordination that exists between civil-society groups, the United Front, and China's diplomatic missions.
The Party's Promise to Protect
The CCP and Chinese government have repeatedly communicated that they intend and have the ability to defend citizens living abroad in times of crisis. "Protecting overseas interests" (维护海外利益), which include Chinese citizens living internationally, became a priority for the CCP and Chinese government as China's economy boomed and citizens and businesses increasingly went abroad throughout the 2000s. In 2016, Foreign Minister Wang Yi told journalists that "how to protect … overseas interests is an urgent mission for China's diplomacy". In 2017, a People's Daily Overseas Edition (人民日报海外版) article that was republished by China News Service (中国新闻社), an international news organization whose target audience is also Chinese nationals living abroad, highlighted the Ministry of Foreign Affairs' (MFA; 中华人民共和国外交部) efforts to improve its mechanisms for protecting overseas compatriots. The article even nods to the line "Behind you, there is a strong motherland!" (在你身后,有个强大的祖国!) from the 2017 patriotic action film Wolf Warrior 2 (战狼2). 
China's 14th Five-Year Plan, released in 2021, further indicates that this is an area of ongoing effort: "Construct an overseas interests protection and risk early warning and prevention system. … improve the institutional mechanisms for consular protection work, protect the safety and legitimate rights and interests of overseas Chinese citizens and institutions". Moreover, providing a "reliable security guarantee" (可靠的安全保障) for protecting Chinese interests abroad, specifically including the ability to evacuate citizens, is an explicit task of China's armed forces. 
Yet, when the war in Ukraine began and the lives and livelihoods of more than 6,000 Chinese citizens were endangered, the Chinese government's decision to evacuate was delayed and uncertain. On February 24, MFA spokesperson Hua Chunying's message to the public was "If difficulties arise, [we] hope everyone will help one another…. If anyone has an issue, the diplomatic missions will do all in their power to help [emphasis added]". Although China's consulate in Odessa began issuing safety notices on February 22 for citizens in eastern Ukraine after Russian "peacekeeping" troops entered Donbass, evacuations were not announced. China's Embassy in Ukraine opened a 2-day evacuation registration period on February 25. A letter dated February 27 from Ambassador Fan Xianrong acknowledged the dangers of the situation and fears caused by exposure to Russia's war against Ukraine — apparently people were even calling the embassy to ask if the ambassador had fled — but stressed that evacuations must wait until it was safe to travel. News outlets reported that the first evacuations, 400 students from Odessa and 200 students from Kyiv, began on February 28.
Not having acted prior to Russia's invasion, the party-state was forced to evacuate its citizens during an active crisis. A member of China's diplomatic staff who escorted a busload of 88 evacuating students on February 28 told the press that "within less than an hour of setting off that night, 3 missile explosions occurred in front of the bus on the left side". A chemical shipping crew was stranded for 13 days, from February 25 through March 9, after their ship was unable to leave a port south of Mykolaiv, Ukraine, due to the war. The crew was eventually evacuated by bus to Romania. As late as March 4, social media posts from Chinese students trapped and scared in Ukraine circulated online. China's embassy in Ukraine stated on March 7 that "most" citizens had been evacuated.
Civil-Social Groups as a Resource
Associations for Chinese nationals living in foreign countries serve legitimate and positive civil-social functions throughout the world. At the same time, the CCP views overseas Chinese associations as instruments through which to defend and advance party-state goals. As documented in my recent report on China's national defense mobilization system, a document drafted by a department of the Central Military Commission (中央军事委员会) includes "Overseas Chinese Organizations" (海外侨团组织) as national defense mobilization resource to be tracked at the national level through the CCP's United Front Work Department (UFWD; 统一战线工作部) (see Figures 1 and 2).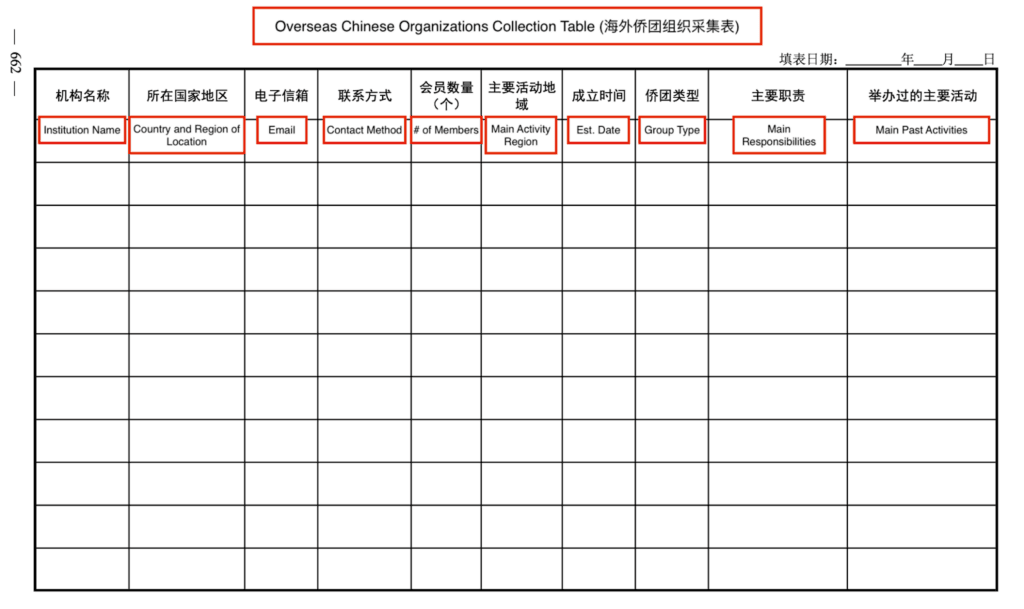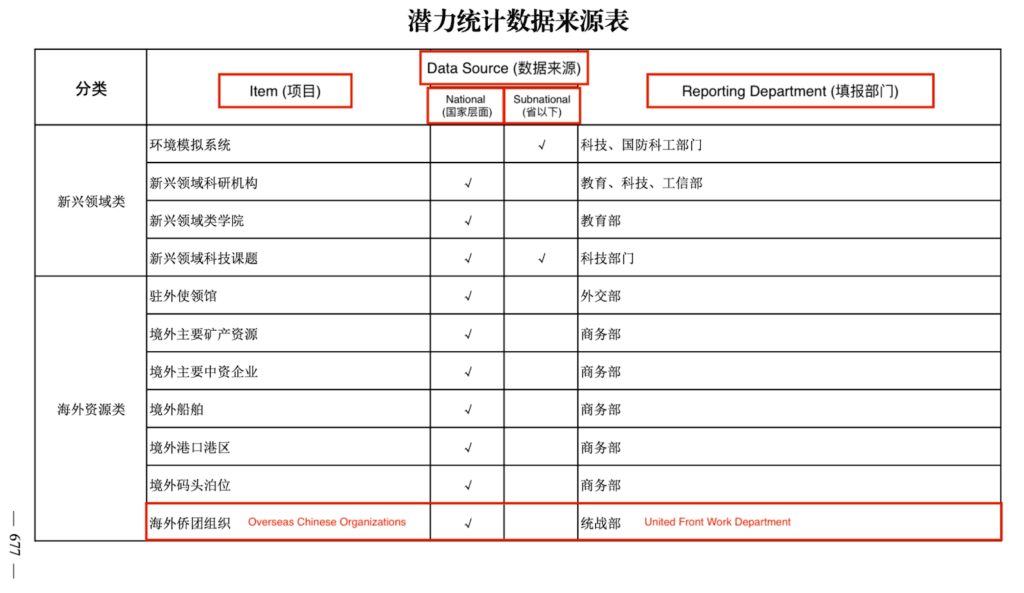 Figures 1 and 2: Top: Template for collecting data on Overseas Chinese Organizations in support of tracking national defense mobilization resources. Bottom: table identifying data sources for tracking national defense mobilization resources (Source: Draft National Defense Mobilization Latent Capacity Statistical Survey Indexing System [see Inside China's National Defense Mobilization Reform: Capacity Surveys, Mobilization Resources, and "New-Type" Militias for more information)
Apart from the national defense mobilization system, the UFWD leads the party's efforts to "unite and connect" with overseas Chinese associations in order to "give better play to the role of [these] mass organizations" under the CCP's leadership. Past research has documented the role that united front work has in China's foreign policy agenda and foreign political interference, among other areas. During the early days of the COVID-19 pandemic, the principal national-level united front organization for overseas Chinese, the All-China Federation of Returned Overseas Chinese (中华全国归国华侨联合会; abbreviated 中国侨联), helped rally overseas Chinese associations to donation personal protective equipment (PPE) to China and from China to other countries, partly in coordination with China's diplomatic missions. In 2011, the All-China Federation of Returned Overseas Chinese also played a role in evacuating Chinese citizens from Libya.
The Mechanics of Evacuation
Foreign Minister Wang Yi provided a high-level summary of how the party-state managed evacuations from Ukraine at a March 7 press conference held during the Two Sessions (an annual political event during which the National People's Congress and Chinese People's Political Consultative Conference are simultaneously convened). The MFA initiated the Consular Protection Emergency Mechanism (领事保护应急机制) and distributed warnings and alerts to compatriots (that is, Chinese citizens) in Ukraine. The staff of the embassy in Kyiv and consulate in Odessa worked to "open safe evacuation routes for Chinese citizens". China's embassies in each of Ukraine's neighbor countries operated day and night in efforts to resettle and transport compatriots. Within China, "every department [and] every locality closely coordinated", and dispatched charter planes to bring evacuees home from Europe. Lastly, Wang asserted that "in the evacuation operations, our overseas Chinese, study abroad students, and Chinese enterprises … fully mobilized, [providing] mutual support". 
Figure 3: Wang Yi discussing China's evacuation operations from Ukraine (Source: Sina News)
Wang's reference to "every department" and "every locality" almost certainly includes coordinating with provincial and local-level united front organizations within China, as will be shown below. Outside of China, it is worth noting that in 2018 the national-level UFWD was given a larger role in uniting international Chinese communities, including "greater control over attachés and consuls responsible for overseas Chinese work at China's diplomatic missions". The CCP's united front system thus extends into China's embassies and consulates, creating links between united front groups in China, overseas Chinese associations abroad, and diplomatic missions. Moreover, Chinese citizens were repeatedly urged by the MFA and consulate in Odessa to maintain contact with "local overseas Chinese associations, overseas student associations, [and] Chinese chambers of commerce" at the start of war. Such statements by the government and its representatives, as well as Chinese news media and the press releases of united front groups, in the first weeks of Russia's war on Ukraine help trace the contours of how overseas Chinese associations were mobilized to support the party-states evacuation efforts and the roles they played. 
Publicly available sources identify at least 36 unique associations and organizations for Chinese nationals living abroad that participated in efforts to support evacuations. These can be divided, and their roles differentiated, into those associations in Ukraine, those in China, and those in other European countries.
Overseas Chinese Associations in Ukraine
Overseas Chinese associations in Ukraine supported the evacuation operations of diplomatic missions and organized evacuation operations in coordination with diplomatic missions and independently. News reports on different rounds of evacuation by bus from Odessa to Moldova include self-recorded videos from the chairman of the Chinese Chamber of Commerce in Odessa (敖德萨华商总会), surnamed Qu. Qu's videos show him accompanied by different people in a vehicle participating in a bus convoy, very likely indicating that he made multiple trips between Odessa and the Moldovan border in support of evacuations arranged by the consulate or the chamber of commerce. The chamber of commerce's specific role is not stated in these videos, but a March 3 notice for the third round of evacuations (the focus of the second video linked above) on the website of China's Odessa consulate states that this round was "organized by the Chinese Chamber of Commerce in Odessa". The bus convoys were accompanied by local police acting as escorts reportedly arranged by the consulate. Separately, news reports also discuss how at least one overseas Chinese leader in Ukraine, a vice president of the association called Diaspora Chinese in Ukraine (乌克兰华人华侨协会), organized a self-evacuation convoy for about 50 people. Whether either of these organizations is a united front group is unconfirmed, though the chamber of commerce is very likely part of the united front system since chambers of commerce are targets for united front work.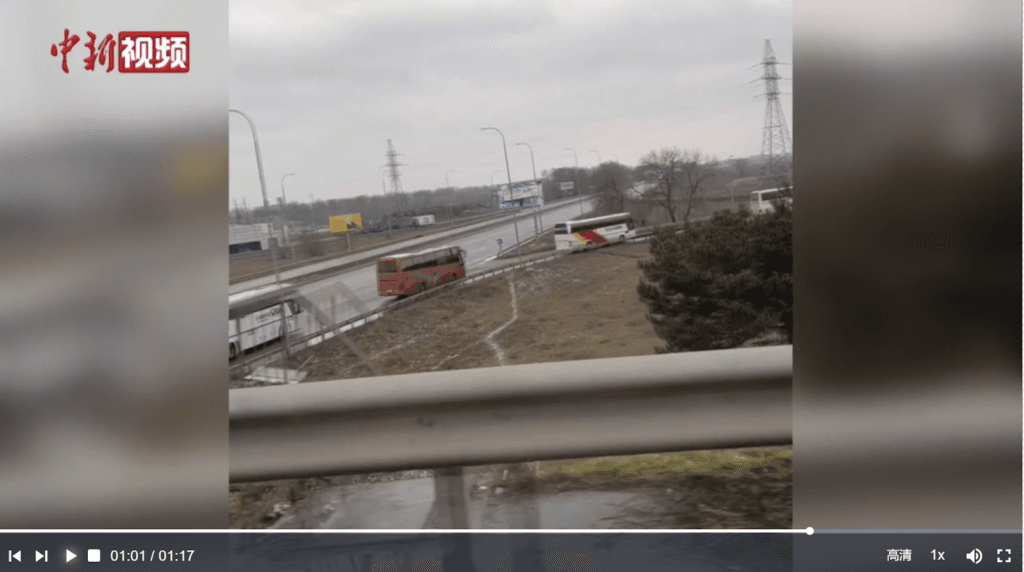 Figure 4: Footage of a bus convoy evacuating Chinese citizens from Ukraine (Source: China News Online)
United Front Groups in China
Provincial and local-level united front groups established to engage Chinese citizens abroad guided efforts in China and abroad to support evacuees and collect information to monitor the situation in Ukraine. Reporting from Zhejiang Province has been the most transparent in this regard. The Zhejiang Federation of Returned Overseas Chinese (浙江省侨联), like its national-level counterpart, is a CCP-led organization that seeks to serve as a "bridge" between the party and international Chinese. It is part of the Zhejiang provincial Chinese People's Political Consultative Conference, a major organization for united front work. Likely from the start of Russia's full-scale invasion, but no later than February 28, the federation:
Guided key organizations in China for connecting with overseas Chinese in implementing emergency measures, convening video conferences, caring for and understanding the situation of Chinese compatriots in Ukraine, and alerting overseas Chinese compatriots to be careful with the safety of themselves and their property
Organized information sharing with every overseas Chinese association, so that as soon as there was a crisis situation, feedback would be promptly communicated
Established a Zhejiang Chinese compatriot in Ukraine contact group to promptly distribute relevant domestic information and constantly track and grasp the status of the situation in Ukraine
Contacted and guided Chinese groups in Ukraine's neighbor countries, including Poland, Romania, Slovakia, and Hungary, to give assistance to Chinese compatriots in Ukraine

Figure 5: Zhejiang Federation of Returned Overseas Chinese banner and logo (Source: Zhejiang Federation of Returned Overseas Chinese)
Very likely under the guidance of the Zhejiang Federation of Returned Overseas Chinese or other parts of the party-state's united front system, the Overseas Chinese Workstation of Taozhu Township in Zhejiang Province (桃渚镇侨联工作站), began contacting Chinese citizens from Taozhu Township in Ukraine immediately following Russia's full-scale invasion. The goal was to ascertain their "specific location, whether they were safe, whether their life and production was impacted, [and] whether they intended to return to China". This workstation further "organized personnel to comprehensively screen people involved with Ukraine in the jurisdiction [presumably Taozhu Township]", to ensure that all Chinese citizens in Ukraine were accounted for. 
A report from Jiangsu Province provides more clues about information sharing that took place after local-level organizations for overseas Chinese in China contacted compatriots in Ukraine. The Jingjiang Federation of Returned Overseas Chinese (靖江市侨联), at some point on or after March 1, learned that a Jingjiang student remained in Ukraine after 3 others had been successfully evacuated. The student was trapped in the National Aerospace University Kharkiv Aviation Institute (Національний аерокосмічний університет ім. М.Є. Жуковського "Харківський авіаційний інститут"; 哈尔科夫航空航天大学) for approximately 3 days without electricity and "shells flying overhead". After being contacted by the student, the Jingjiang Federation shared their information with the local Public Security Bureau's Exit-Entry Management Dadui (公安局出入境管理大队; in very general terms, a dadui can be thought of as a unit), the city's Foreign Affairs Office (靖江市外办), and other "superior departments" to seek help. Jingjiang City is administratively below Taizhou City, and the student's situation was communicated to the Taizhou City Federation of Returned Overseas Chinese (泰州侨联). The Taizhou Federation subsequently shared it upward to the next highest level of the united front system, the Jiangsu Federation of Returned Overseas Chinese (江苏省侨联). Additionally, the Jingjiang Federation further shared the student's information with an overseas Chinese association in Hungary. Although not explicitly stated, the relevant information was probably also shared with China's relevant diplomatic mission in Ukraine (the Kyiv embassy or Odessa consultate) at some point in this case. 
Reports with varying degrees of detail suggest similar interactions were taking place throughout Zhejiang and other provinces. Other organizations in Zhejiang were also actively connecting with overseas Chinese associations in Ukraine and Chinese compatriots from their respective jurisdictions, including the Qingtian Federation of Returned Overseas Chinese (浙江省青田县侨联) and the Overseas Students and Family Association of Wenzhou (温州市留学人员和家属联谊会). The Fujian Federation of Returned Overseas Chinese (福建省侨联) was likely aggregating statistics on evacuation efforts collected by local-level organizations, with its Friendship and Liaison Department (联谊联络部) reporting to the press on March 4 that it was aware of "about 100 volunteers" in Europe that had already helped 1,600 compatriots and students evacuate. Both the Fujian Federation and the Guizhou Federation of Returned Overseas Chinese (贵州省侨联) issued press releases about the evacuation efforts of overseas Chinese associations with links to their respective provinces (Fujian and Guizhou), indicating they were at least monitoring these activities if not guiding them.
Overseas Chinese Associations in Other Countries
Overseas Chinese associations in other European countries, under guidance and leadership from China's diplomatic missions and united front groups in China and elsewhere, organized volunteers to meet evacuees at the border, arrange shelter, and provide other necessities for them. News reports indicate that overseas Chinese associations undertook such roles in Poland, Slovakia, Hungary, Romania, and Moldova, as well as farther afield, such as in Germany. The examples below illustrate the pattern of these humanitarian activities: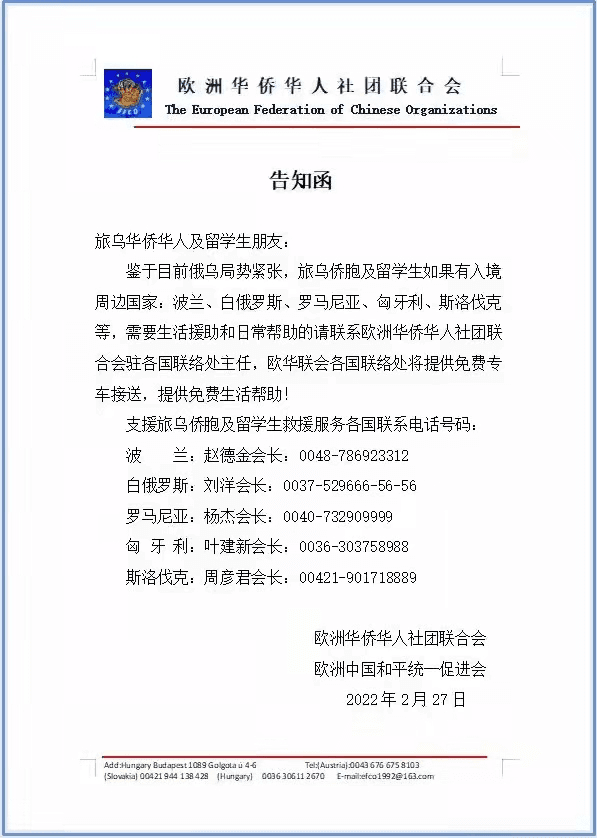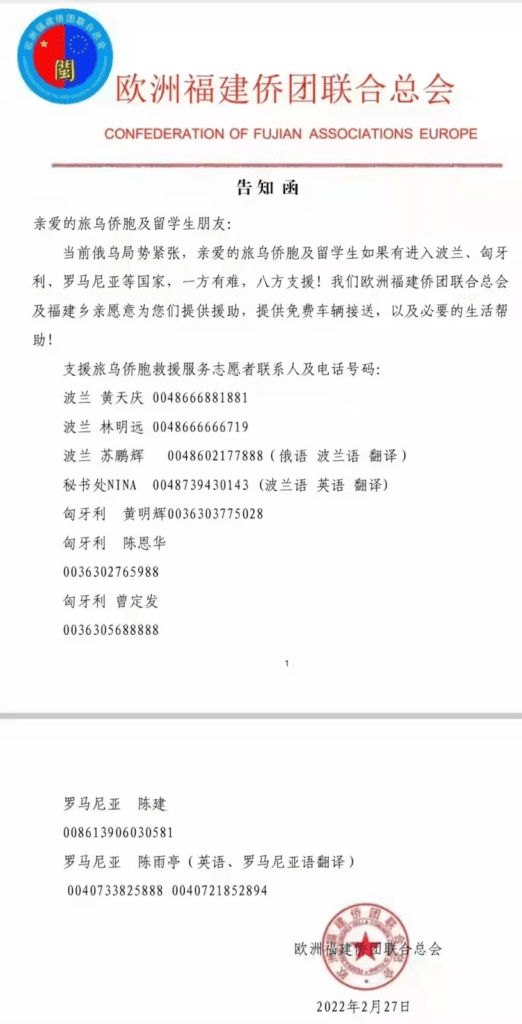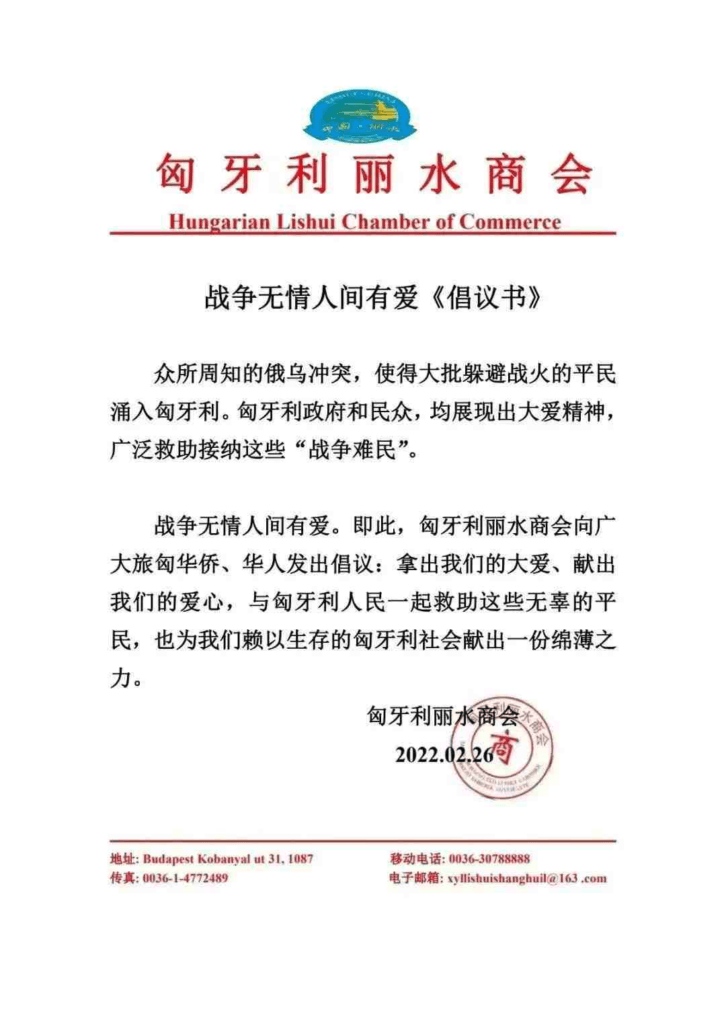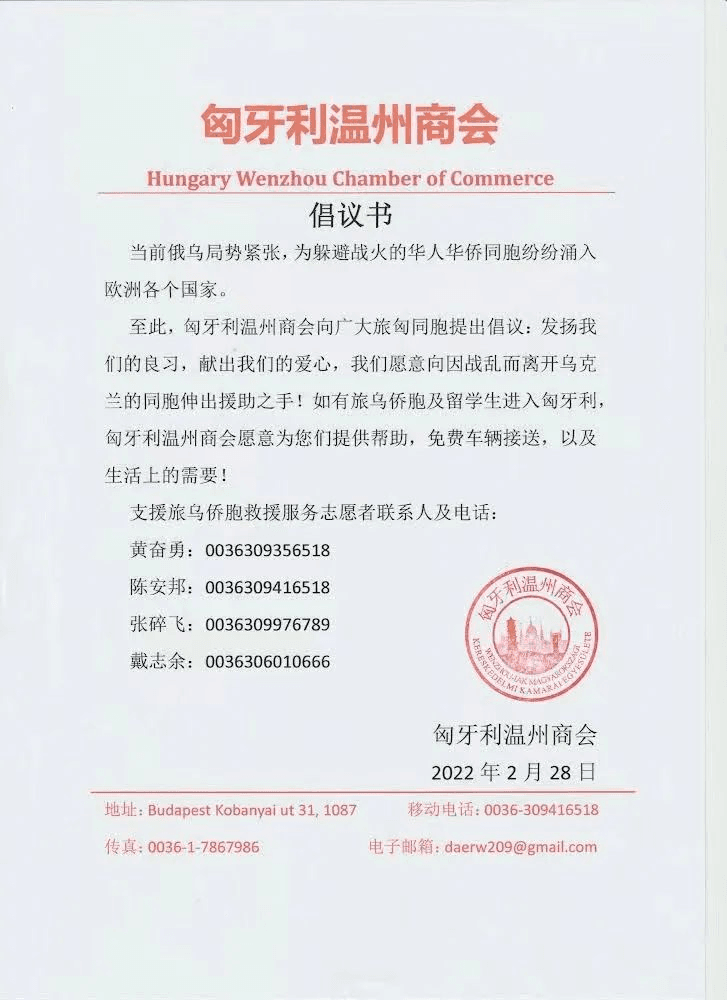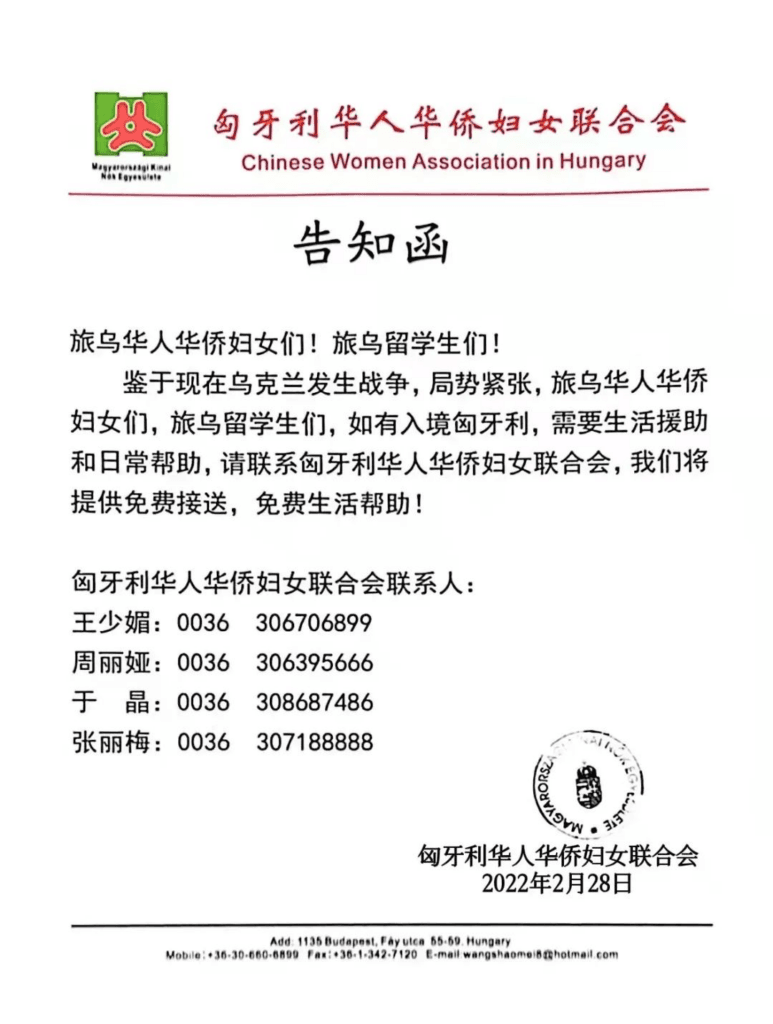 Figures 6-10: Notices to evacuees and proposals to aid evacuees from (top left to bottom right) the European Federation of Chinese Organizations, Confederation of Fujian Associations Europe, Hungarian Lishui Chamber of Commerce, Hungary Wenzhou Chamber of Commerce, and the Chinese Women Association in Hungary (Sources: Fujian Federation of Returned Overseas Chinese [1, 2], CareerEngine.US, Xin Dao Bao)
Without detracting from the laudable humanitarian efforts of these volunteers, many of these activities were almost certainly coordinated by the CCP's United Front and with China's diplomatic missions. As discussed above, the Zhejiang Federation of Returned Overseas Chinese told the press that it "contacted and guided Chinese groups in Ukraine's neighbor countries, including Poland, Romania, Slovakia, and Hungary, to give assistance to Chinese compatriots in Ukraine". The EFCO, which likely has links to United Front leaders if it is not itself a united front organization, distributed an early proposal (倡议书) to form a team for aiding Chinese evacuees from Ukraine. This is reminiscent of the 2020 proposal issued by the All-China Federation of Returned Overseas Chinese to encourage donations of PPE to China for the fight against COVID-19. "Overseas Chinese leaders from all over" reportedly joined the EFCO's initiative. According to a notice distributed by the Slovakia Chinese Youth Association for Business (斯洛伐克华人青年联合商会), this group "actively coordinated with the Chinese embassy in Slovakia's firm leadership" [我会积极配合驻斯使馆的坚强领导]. In part, this entailed creating volunteer teams to welcome evacuees from Ukraine into Slovakia as well as providing food, shelter, and other support, as happened in other countries. The Romania-Fujian Association discussed above reportedly also dispatched a team to the Ukraine-Moldova border to "assist" the work of China's embassy in Moldova. These and other reports suggest that China's diplomatic missions were involved in coordinating the humanitarian activities of overseas Chinese associations while united front groups encouraged participation.
Outlook
The urgent need to evacuate Chinese nationals from Ukraine tested the CCP and Chinese government's ability to mobilize to fulfill promises to protect Chinese citizens living abroad. As documented above, overseas Chinese associations played a significant role in this effort. Such associations were a critical component of demonstrating that, as Wang Yi stated on March 7, "no matter what time, no matter where, we [the party-state] are beside you, the homeland is behind you!" The volunteers of more than 30 associations provided comfort and aid to their compatriots in a time of great need. At the same time, public reporting shows how subnational, CCP-led united front organizations guided overseas Chinese associations and how the activities of such associations were coordinated with China's diplomatic missions. Additional research is needed to judge how effective this mobilization was from the perspective of Chinese evacuees, but it can be expected that similar mobilization and lines of communication will be used to defend and advance the party-state's interests in future crises.
Notes: [1] The term "united front" is capitalized when referring to the United Front (统一战线) as "a coalition of groups and individuals working towards the CCP's goals" or the United Front Work Department, which is "a CCP Central Committee department that coordinates and carries out united front work". The term is not capitalized when referring to the united front system and united front work in general.