Recorded Future Threat Intelligence Delivers Measurable Outcomes for Security Teams
Today more than ever, you need to know that the vendors you work with deliver measurable value to your organization. There's no room in this economically and geopolitically challenging time to waste money, time, or effort on any cybersecurity solutions that do not help you measurably elevate your security defenses.
It's clear that Recorded Future clients see quantifiable results. So we asked them to report the value delivered by Recorded Future across a few critical themes: time savings, increased capacity, increased efficiency, and increased visibility.
Clients of various sizes and industries across the globe were surveyed and overall reported saving time, increasing their team's capacity and efficiency, and getting a more complete picture of their digital footprint and threat landscape with Recorded Future.
Significant Time Savings with Recorded Future
Time is perhaps the most valuable resource in the cybersecurity world. Users report that they save more than an entire business day of work each week on investigation and threat hunting efforts with Recorded Future, at an average of 9.2 hours per week saved. At that rate, our clients are able to save nearly one full business week per month (36.8 hours) on investigation and threat hunting efforts when using The Recorded Future Intelligence Cloud. What's more, users report that they save an average of 6.5 hours per week on threat mitigation efforts with Recorded Future.
Our clients are also reaping the time-saving benefits of having actionable intelligence at their fingertips. Clients report that their teams save an average of 13.1 hours weekly by using Recorded Future's actionable intelligence compared to using open or free sources of intelligence. It's clear that DIY intelligence solutions that rely on open or free sources of intelligence are costing organizations time that could be better used taking action.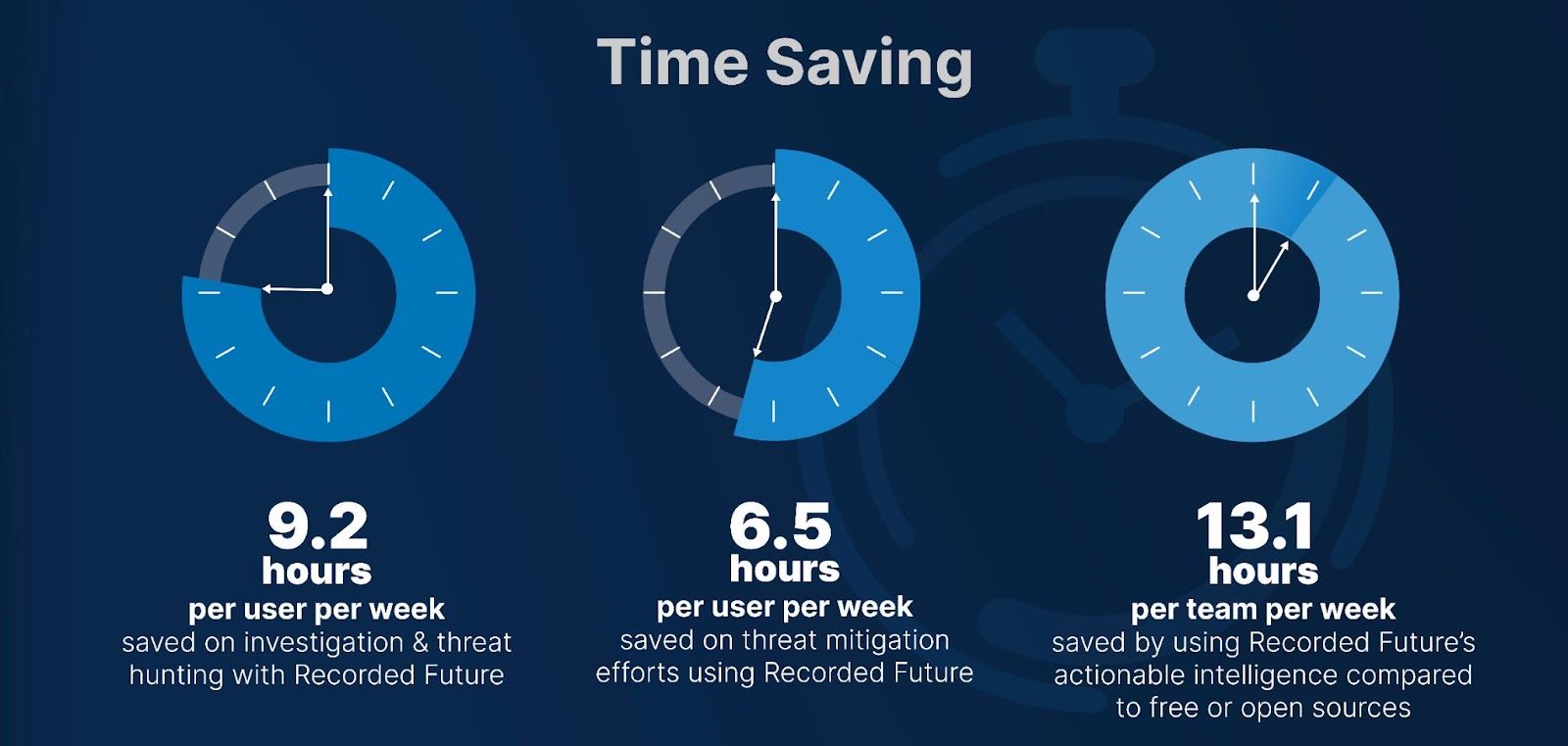 Actionable intelligence enables clients to quickly decide how to move forward in defending their organization or shift their security posture proactively. A Data Security Analyst from Butler Snow LLP, a US law firm, says in a Recorded Future case study that "actionable intelligence helps us drive and validate our group's decision on how to prioritize patching critical systems."
Threat Intelligences Increases Teams' Capacity
Doing more with less is the name of the game in the resource-strapped security industry. The security space has faced a security professional shortage for years, and the shortage is growing. As per the 2022 (ISC)2 Cybersecurity Workforce study there is a $3.4 million gap in the cybersecurity workforce. Persistent staffing challenges make it difficult for teams to accomplish all the work before them on a daily basis, so it's critical that threat intelligence providers multiply your team's capacity rather than adding to your workload.
Our clients report an average increase in their team's capacity of 32.9% by using Recorded Future. They also report that their teams can now shift 21.7% of work that could previously only be done by senior analysts to junior analysts. Empowering your teams to be more productive and capable than they would otherwise be, and allowing teams to shift work to less skilled workers is a cost saver that helps you combat the industry's growing talent shortage. It gives you an advantage over other organizations, because while others are overwhelmed with threats, unsure of what to prioritize, you are getting more done with fewer resources.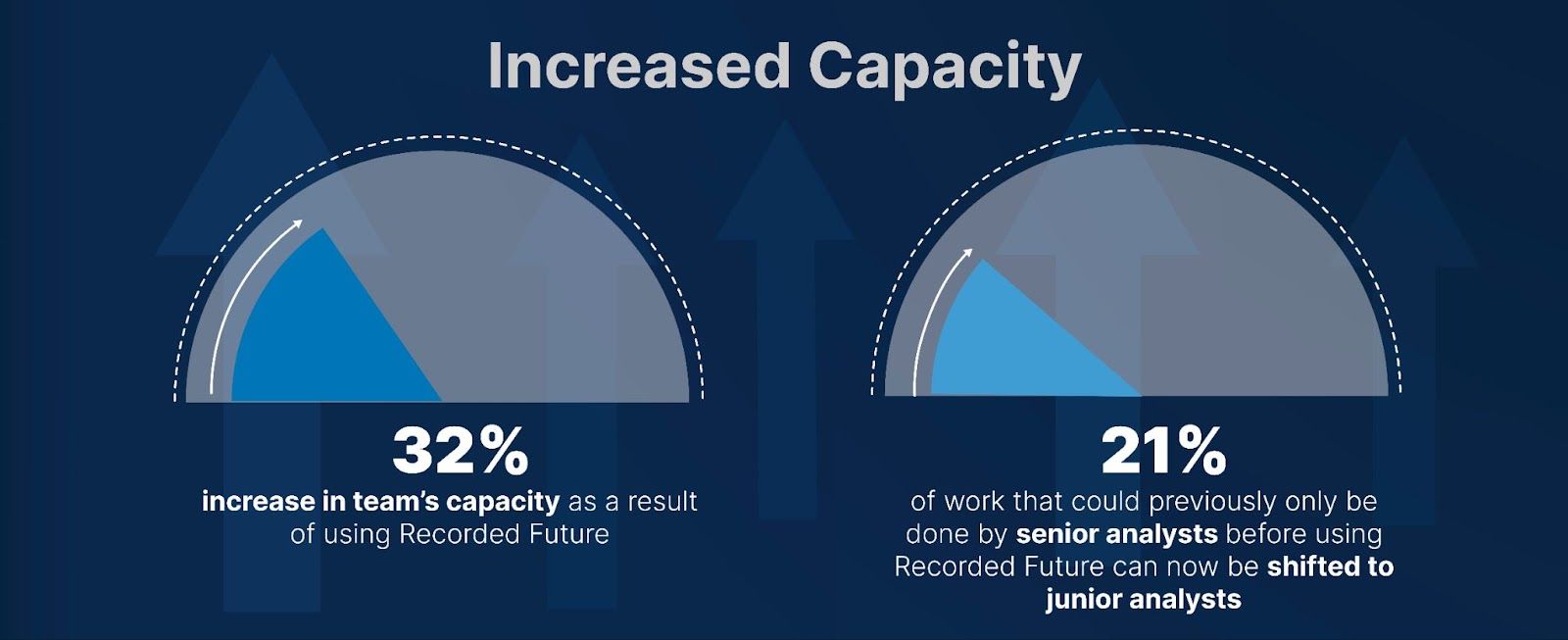 Teams' Efficiency Increased Across Multiple Dimensions
Efficiency is the foundation of a scalable, cost-effective, and resource-optimized security program. With efficiency at your intelligence-led security program's core, your team is enabled to detect, investigate, and mitigate threats quickly, often with less effort required.
Users report that they are now 48.1% faster at identifying new threats than prior to using Recorded Future. Faster identification can enable clients to take steps towards mitigation sooner than before, and adopt a proactive approach to security, allowing them to stand up defenses where threat trends are appearing.
For some of our clients, Recorded Future is not their only intelligence provider, but it is their fastest. We asked clients with multiple intelligence providers if they observed a difference in alerting speed between Recorded Future and other vendors, and more than half (55.4%) reported observing that Recorded Future alerts faster than their other providers. In fact, 29.7% of clients reported that Recorded Future alerts them at least days before other providers.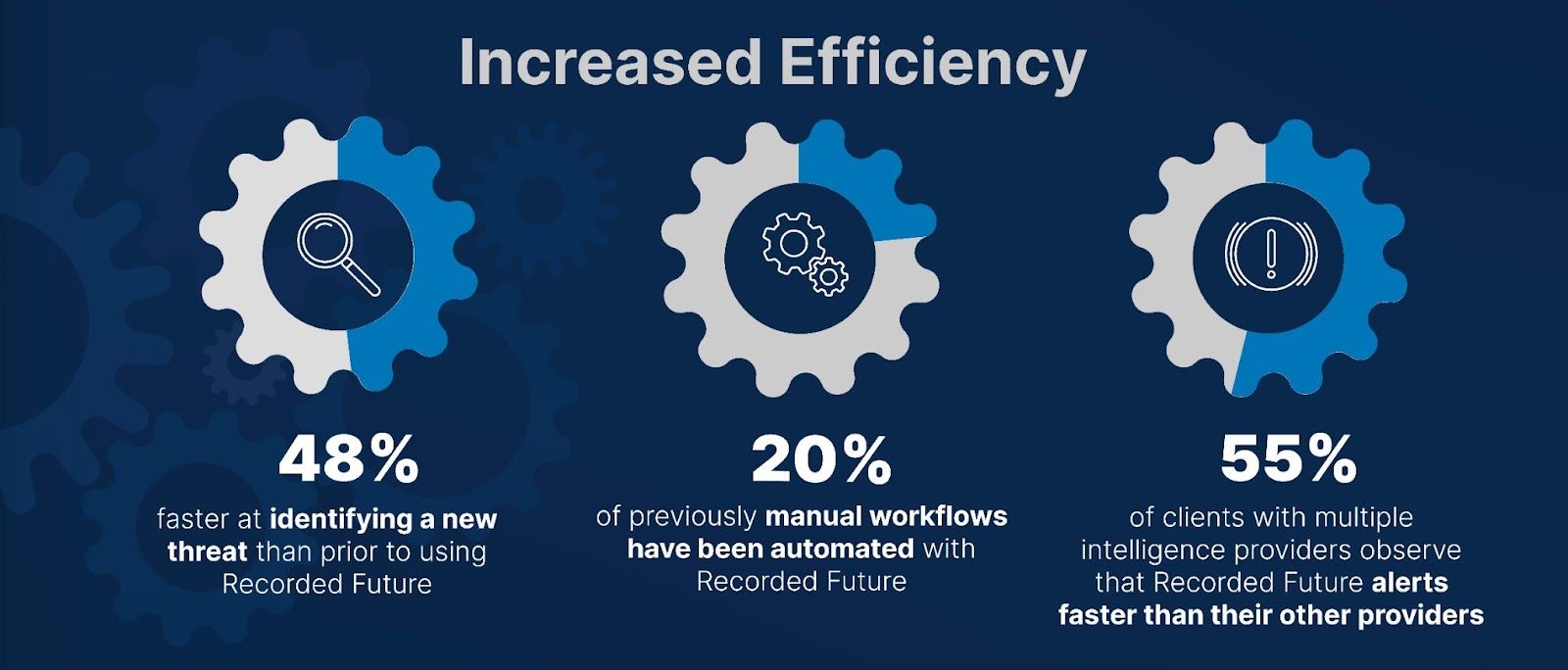 Increased Visibility Provides a Complete Picture
You can't protect what you don't know about. Revealing a complete picture of your threat landscape and digital footprint allows you to make informed decisions about where to spend your effort and brings to light threats you may not have been aware of. In a case study, Group Head/CISO of Allied Bank Limited mentioned that the need for increased visibility was one of the main reasons the company chose Recorded Future. He said "the biggest challenge we faced – the reason we opted for Recorded Future – was we did not have enough visibility into Allied Bank's digital asset inventory. We wanted to be able to see what digital inventory information was out there, and to be alerted if any anomalies were detected."
Users report marked improvements in their understanding of their organization's threat landscape and digital footprint, with 90.4% of clients saying that they have a better understanding of their threat landscape and 85.9% of clients saying they have a better understanding of their digital footprint now using Recorded Future. What's more, clients report that they've been able to gain 61.9% more visibility into potential threats with Recorded Future.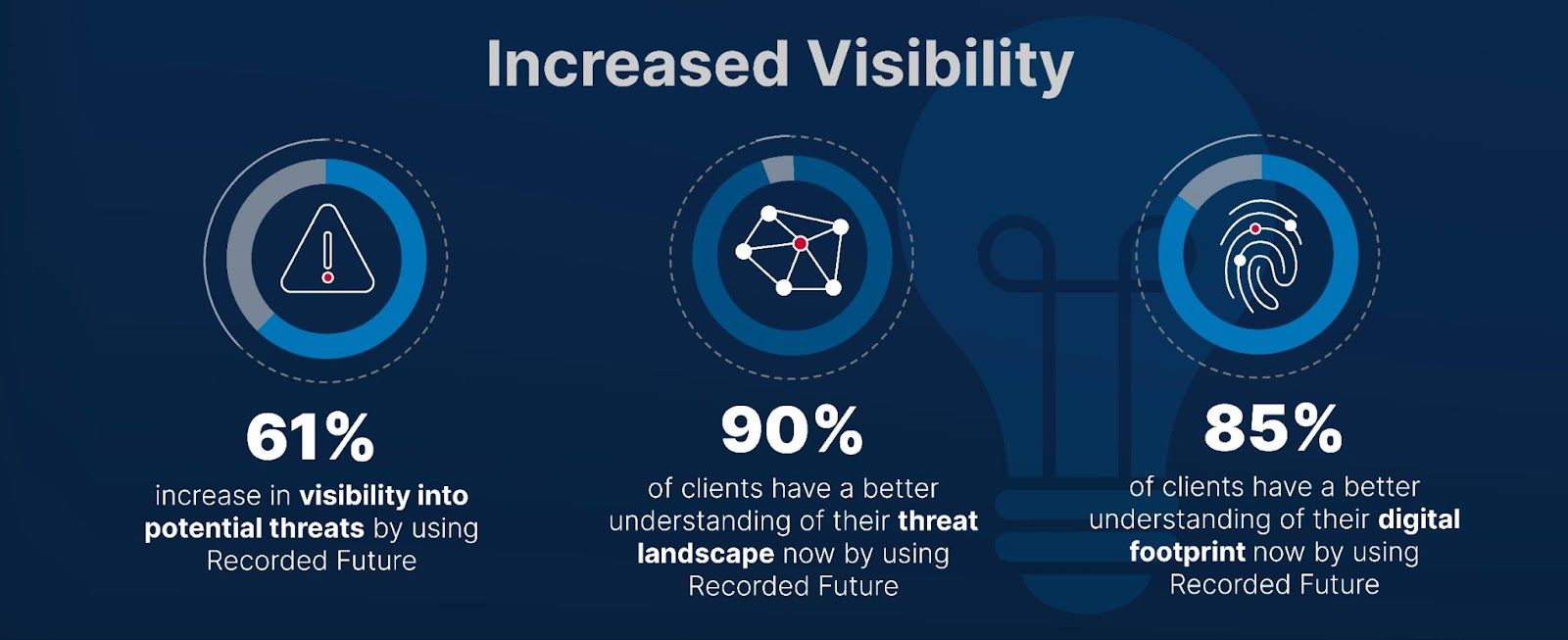 Conclusion
In the face of budget tightening and an increasingly complex threat environment, clients need threat intelligence to help them quantifiably improve their security team's outcomes. Recorded Future's clients report observing significant time savings, improvements in team capacity, increased efficiency, and improved visibility when using the Recorded Future Intelligence Cloud.