The Marikana Mine Massacre and South Africa's Volatile Labor Market
Posted: 
23rd January 2013
On August 16 of last year, 34 miners on strike at the Lonmin platinum mine in Marikana, South Africa, were killed by police. Many more were injured and arrested. The South African government's inquiry began again on Monday after breaking for several weeks, and news on the Farlam Commission's progress has revealed that advocacy organizations are left hard pressed for evidence while the miners' legal team running low on funds. While initially set to finish by February, the investigation is now not expected to conclude until May or June.
While the commission's investigation has yet to produce any conclusions, the events at Marikana have already caused major disruption to the South African mining industry in the form of widespread strikes and security issues as well as government policy considerations. We'll use this space to review events leading up to the massacre in Marikana, the reaction by Lonmin and the larger mining industry, and the subsequent spread of "wildcat" strikes across South Africa.
The trouble at Marikana began in August shortly after Lonmin began a retrenchment process. According to South Africa's labor laws, specifically Section 183, companies are required to notify and consult with employees over potential staff reductions. This resulted in "wildcat" strikes, done outside of official union organization, beginning on August 10 with 3,000 miners stopping work. The first deaths associated with the strike on August 11 were reportedly National Union of Mineworkers (NUM) members and were followed by two police officers killed on August 13. Early in the dispute, on August 12, Lonmin stated that the violence was triggered by a dispute between NUM and rival union the Association of Mineworkers and Construction Union. The worst of the violence culminated in a mass killing carried out by a special police force on August 16, which brought the death toll for the conflict to 44.
Other fatal protest incidents occurred at mines in South Africa during 2012: three were killed at an Impala Platinum (Implats) site in February and an attack on Aquarius Platinum in August saw three people killed. The outcome of events at Implats and Lonmin are important to note; both resulted in the companies increasing wages: 125% and 22% respectively. Combined, wildcat strikes were perceived a successful negotiation tactic, and the response by workers was significant. Within weeks, miners at almost all of the major players to call for the same, and soon, wildcat strikes spread from platinum belt to gold mines and iron mines leading to around 60,000 miners going on strike.
The first copycat strike hit Gold Fields on August 29 with labor stoppages at Amplats, Anglogold Ashanti, Exxaro, and others to follow. The actions were not the first illegal strike by miners in South Africa during 2012; more than 4,600 workers were dismissed by Implats earlier in the year. But after the Marikana massacre, the protest strategy took hold throughout and also spilled over to wage strikes in agriculture and transportation.
The events suggest that South Africa's labor landscape is truly in flux as commercial organizations, labor unions, and government officials push and pull over solutions to wage demands. And as mentioned above, it's not just being seen in mining. The two images below describe this tension as we look at the comparative timeline of labor issues in 2011 versus 2012 as well as the diverse set of companies affected by major labor disruption across South Africa.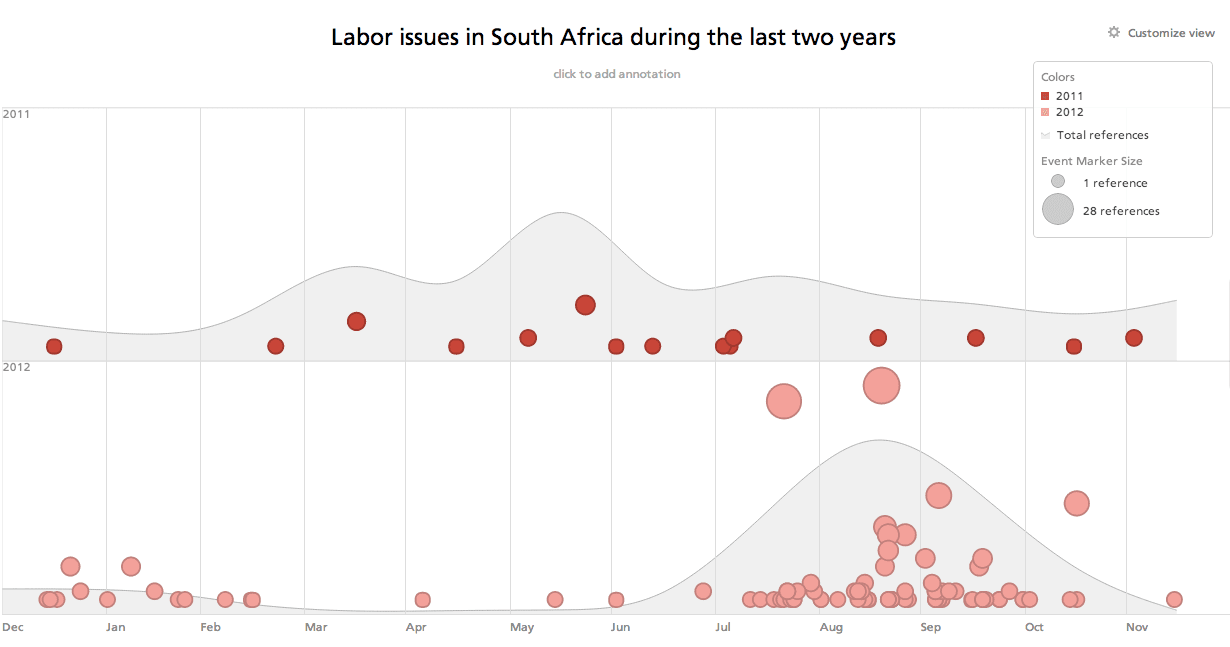 Companies do continue to expand operations in the country including some big names in technology (small operations from Amazon and Google), major US fast food chains, and consumer product companies and parts makers such as Unilever and AGCO. But the mining industry is facing unique challenges, and it's worth asking, are companies reconsidering their investments in South Africa?
The gold mining industry is set to see its wage deal expire in June 2013 while other regulations such as shifting ownership demographics to meet a target of 26% black ownership of mining companies by 2014. AngloGold Ashanti and incoming CEO Mark Cutifani suggests the the South African strategy will have to be reconsidered.
The expected share of production from South Africa for AngloGold is expected to drop by 7% in 2014. It lost about 300,000oz of gold worth about R4.5bn to the recent illegal strike. Gold Fields is spinning off two mines under control of a new company to be listed in February after missing out on 2B rand ($226.8M) in revenue and 145,000 oz in lost production due to the strikes. Harmony Gold has kept one of its mines closed since Christmas fearing for the safety of its workers and police.
Lonmin appears steadfast in its commitment to the country although its forecast production has been altered. The company is also seeking to raise $800 million as part of a balance sheet strengthening initiative in order to avoid a covenant breach in March and hopes to have its K4 shaft, shuttered for maintenance since September, back into production towards the second half of 2014. Their position is one that also may change as the Farlam Commission releases its findings.
What to Watch in the Near Future
The future of platinum in Africa has come under much consideration and reaction to the world's largest producer, Anglo American Platinum, announcing last Tuesday that it would close several mines and cut 14,000 jobs in South Africa is being closely watched. The competing trade unions, AMCU led by Jeff Mphahlele and NUM led by Frans Baleni, will be important to follow as they're widely blamed for feeding mine violence, and the impact of government deliberation over minimum wages could spark further unrest pan-industry next month.
You can follow up or expand on this analysis using the Recorded Future report containing these visualizations. What are your thoughts on the future of the mining space in South Africa? Will the events at Lonmin's mine in Marikana lead to a sea change in how companies do business there? Leave us a note in the comments.