Supercharging Tines for Attack Surface Management
Rapidly identifying and mitigating threats that matter most is more important than ever in today's dynamic threat landscape. With digital assets scattered all over the internet – often spun up without proper security oversight and hygiene, which end up unforgotten and unsecured – organizations must ensure they always have a thorough understanding of their external attack surface. Automation can transform attack surface management, accelerating every step from identification of assets to remediation of risks.
By automating attack surface management workflows, security teams can better navigate disparate technology systems and quickly map and resolve vulnerabilities – while keeping pace with its dynamic attack surface. But for automation to be effective, it must be enriched with actionable data that can be executed – or approved – by the right people – those who were doing the work manually.
Attack Surface Intelligence from Recorded Future shines a light on an organization's risks tied to their connected environments. It provides security and compliance teams with a comprehensive toolset to understand and mitigate risk across their associated attack surface. It gives an outside-in view of your organization and, when integrated with Tines, enables organizations to see the blind spots that are visible to adversaries and automatically move the advantage back to your teams.
Supercharging Tines for Attack Surface Management
Tines integration with Attack Surface Intelligence provides flexibility to fit into your existing workflows, as you need them. As assets that may be vulnerable to threats or exploits are detected and pulled into Tines, automation makes it possible to remediate these incidents with detailed context into the risks they pose to the business. Recorded Future's integration with Tines automatically fetches results from the Attack Surface Intelligence module for teams to automate manual workflows – through dragging, dropping, and connecting actions with the Tines no-code capabilities.
Two pre-built stories leveraging Recorded Future Attack Surface Intelligence send notifications to Slack – and automatically generate Jira or ServiceNow tickets – so the team can accelerate prioritizing and resolving risks.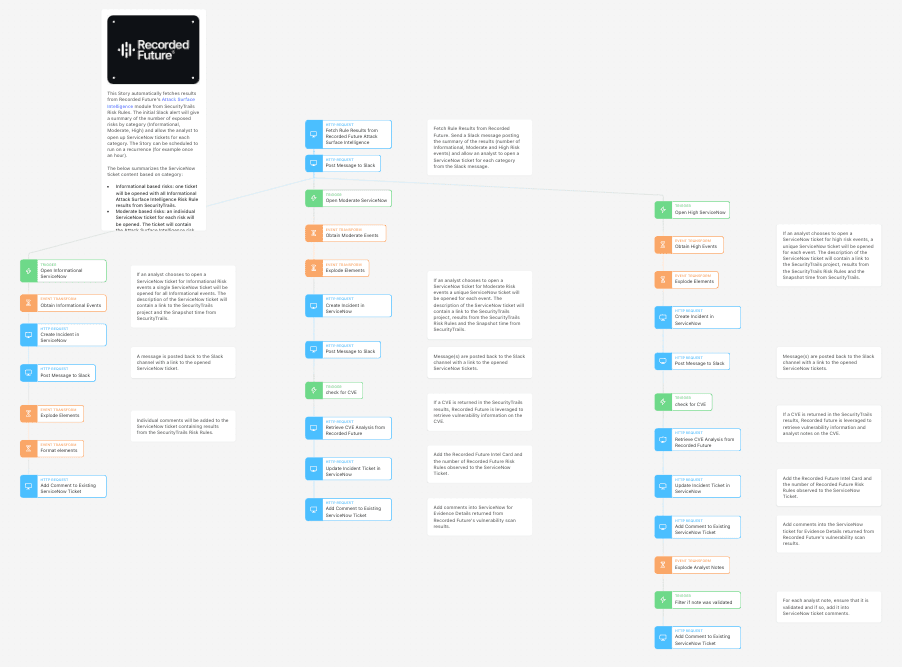 This integration eliminates the need to aggregate, correlate manually, and triage information. The Tines integration with Recorded Future Attack Surface Intelligence empowers analysts to more efficiently manage their attack surface with a single pane of glass, accelerate incident response investigations, supercharge vulnerability scanning, and confidently reduce risk.
To learn more and see the integration in action, request a demo of Attack Surface Intelligence today.