Product Updates: List Building and Search Tools Plus Improved Balance to Results
We have two major updates to share this week: lists and improved balance to the results returned on high volume queries. All of the details and examples of each update can be found below, and when you're ready, log in and try out the latest!
Create and Search Custom Entity Lists
The recently introduced "List" features in Recorded Future make it easier and quicker to search for groups of people, places, and organizations – or any mix of entities! Additionally they provide a means for user to recall interesting entities discovered during analysis.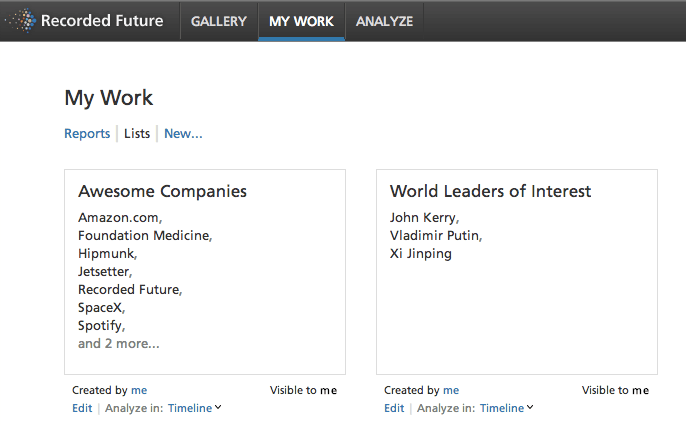 New lists can be created in the "My Work" section shown in the above image. Lists are built by adding a unique label and then entering entities of interest just as you would in the search panel. Once a list is set you can create a timeline (or any other visualization) of the list in a single click.
Users can query any watch list they own or are permitted access by entering the list name into the search field or advanced search panel. Click the image below to see the results of a query on the "Awesome Companies" list containing nine different companies.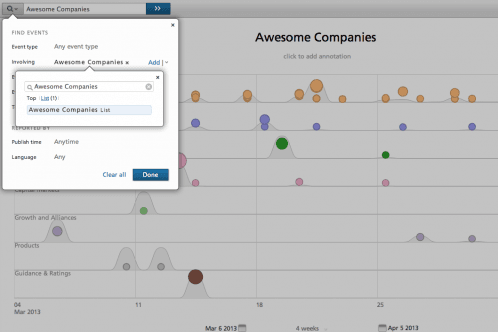 The results of a query can also be leveraged to build new or update existing lists. Whenever information is displayed, click the "Save" link in the upper right to pull entities (organizations, companies, people, etc.) from that result set in order to seed a new list or add to an existing list.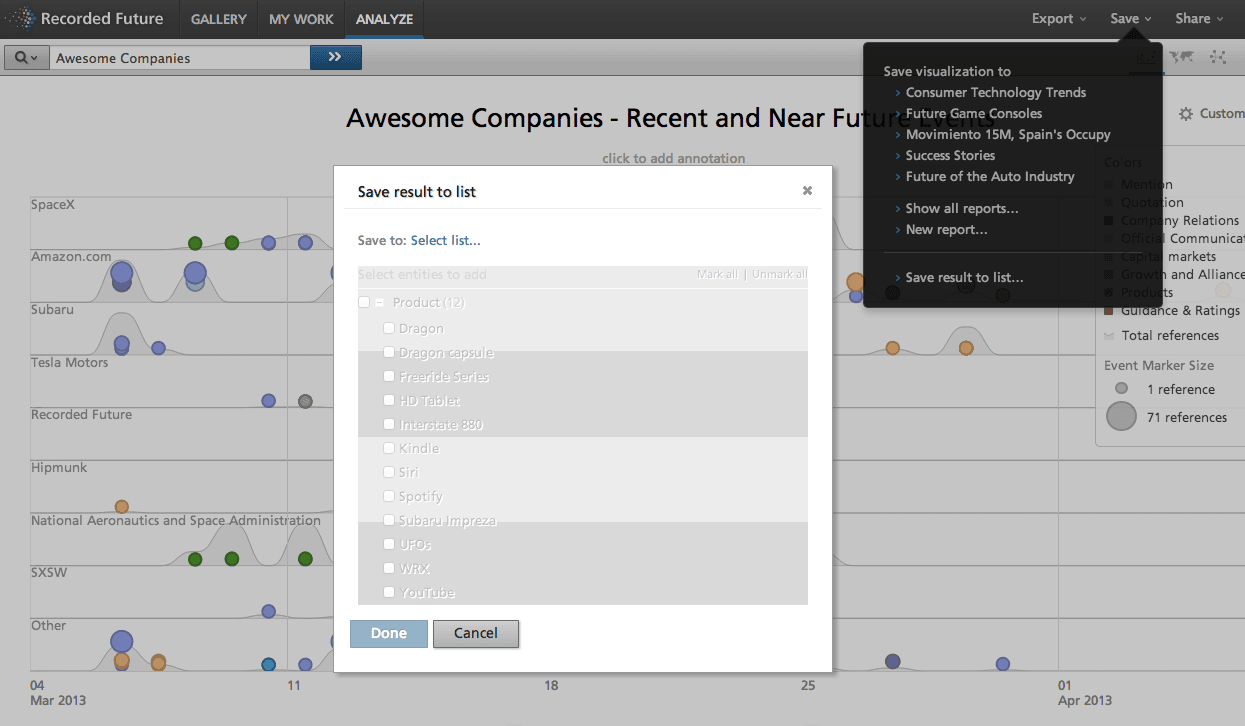 Note: Basic users will are limited to one list containing a maximum of five items; Professional subscribers can create up to 10 lists with a maximum of 10 items in each list.
Improved Balance to High Volume Queries
Since searches return at most the top 100 events by reference count, recent events, strong event types, and much talked about people, places, and companies often dominate the entire result set. This makes it difficult to look at major events over many years or combine strong event types with weaker event types in a visualization.
In order to address this we have now balanced result sets between time periods, entities and event types in the query. As an example, if you were looking at "Person" entities in Recorded Future with dramatically different online visibility – Barack Obama and comedian Nick Offerman (better known as Ron Swanson) – there will now be results surfaced for both individuals: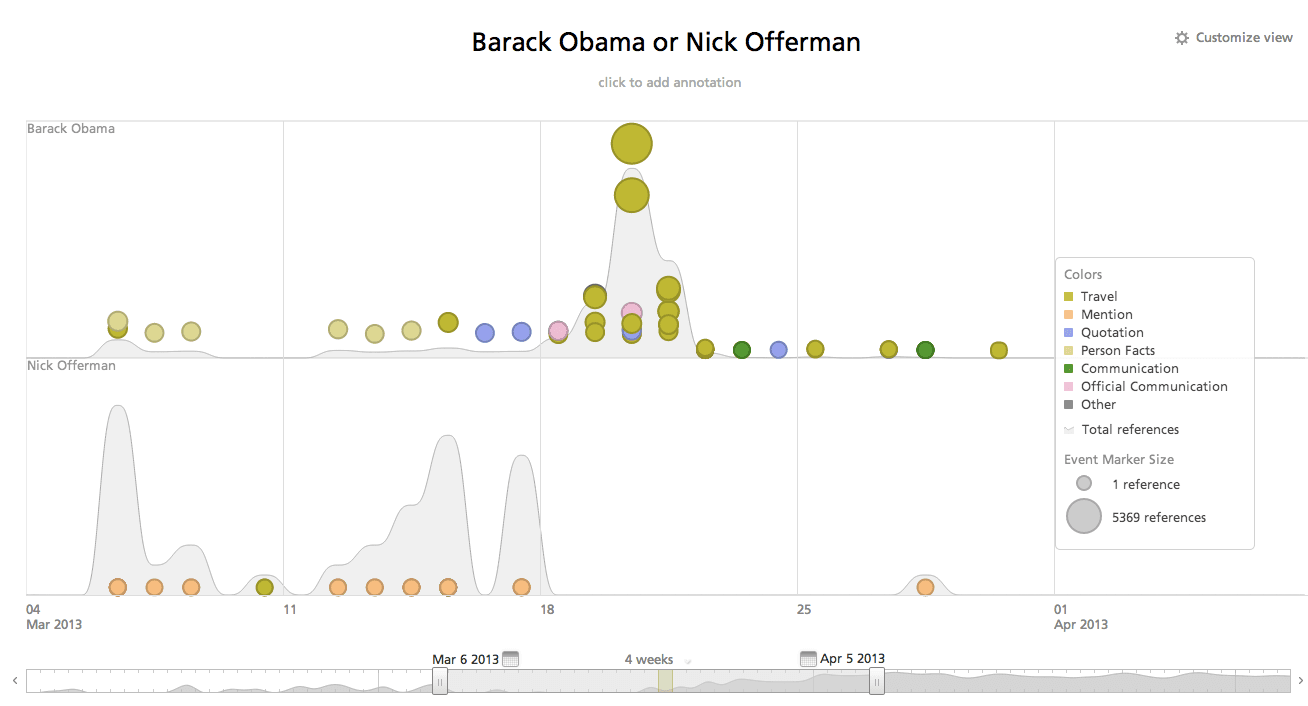 As an example of a larger query across multiple years, we get more balanced historical results when looking at a timeline of Apple product releases during the last three years and anticipated for the rest of this year.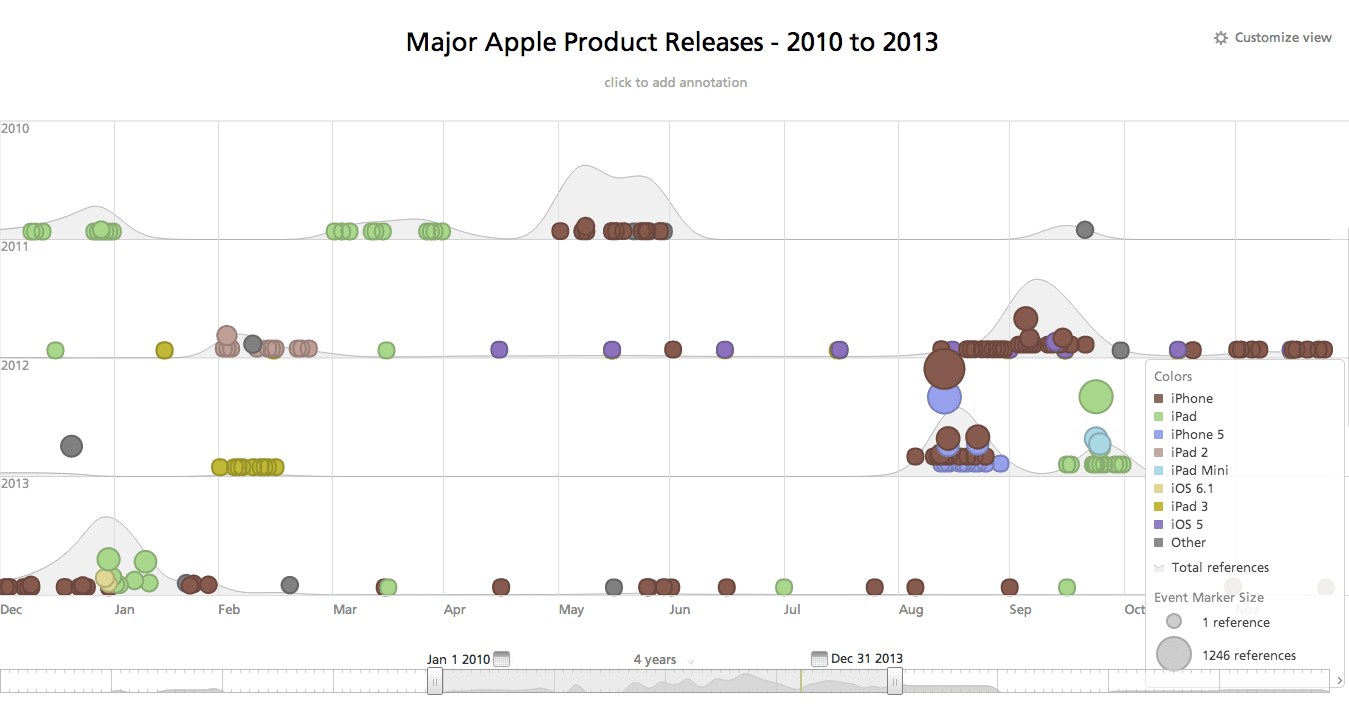 Want to check out the latest? Sign in or register for Recorded Future, and let us know what you think!