Mobile Payments Industry Taking Shape
Posted: 
20th January 2012
Pronouncements on mobile payment technology are peaking again following showcases at the Consumer Electronics Show and Paypal's recently launched program with Home Depot, and the developments in this space go way beyond the geek appeal of waving a phone to pay for your groceries. The technology and infrastructure that's emerging will be truly disruptive to existing commercial payment systems.
Below, you can see just how fast things are evolving through a network from Recorded Future depicting the acquisitions, alliances, and investments around mobile payment technology that took place during the last twelve months: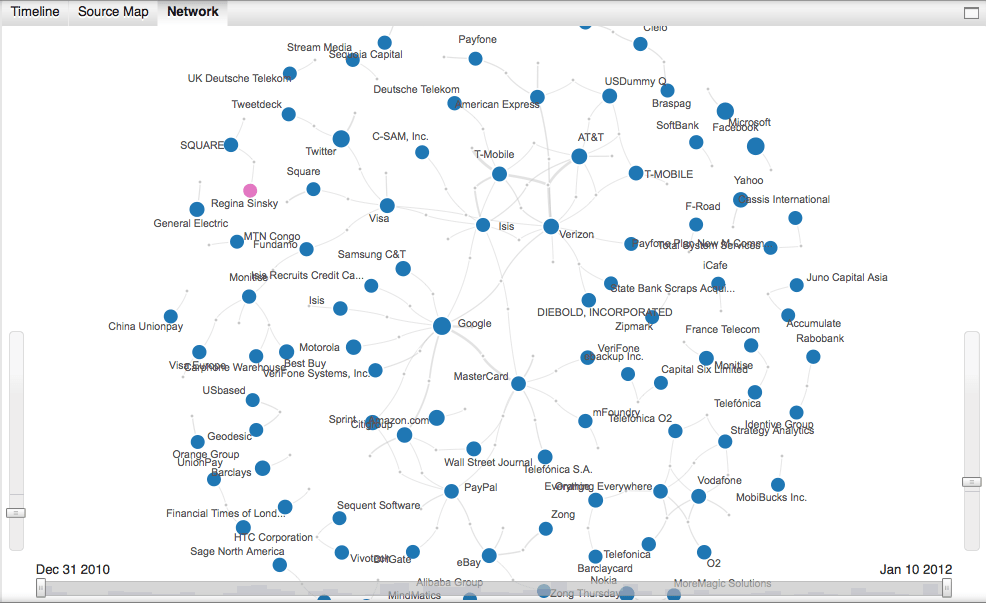 What stands out? Well, it's clear that the major players in payment processing as well as telecom are all in the game. The cooperation between typical rivals Visa, Mastercard, and American Express in a program called ISIS shows the significance of threats from challengers such as PayPal and Square. It's also clear that this shift is a global one given the activities of European mobile operators O2, Vodafone, Telefonica, and more.
The lack of mobile hardware manufacturers (HTC, Samsung, and Nokia are present but peripheral) is somewhat surprising although the partnership aspect is perhaps more the domain of a mobile OS maker like Google, which appears above as a dominant entity.
Those following this space know that the build up has been huge, and we're probably in the second or third round of tech prognosticators suggesting this is the year that mobile payment goes big. So, will we actually see widespread adoption of these technologies in the near future? The infrastructure's complexity is evident above, but the next twelve months certainly hold promise of major steps towards mainstreaming these systems around the world.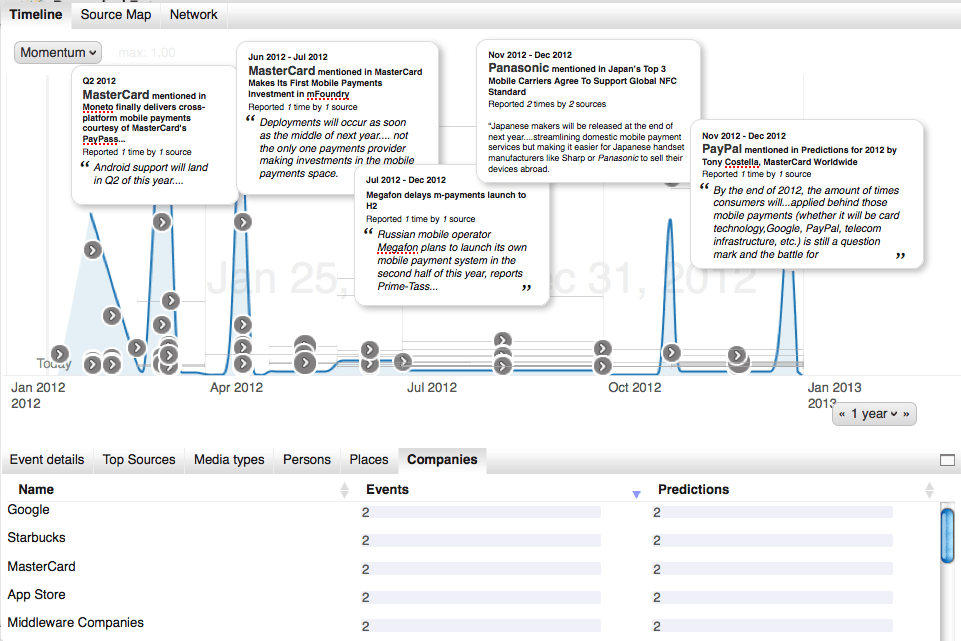 If you click through to the timeline, you'll notice events beyond those that are called out above including:
Moneto, a product that works on the MasterCard PayPass systems that wraps around the iPhone and will be supported by Android in Q2 of 2012.
New payment systems expected to emerge or mature in Russia, Spain, and Nigeria while Japanese telecoms are looking to switch their NFC standards to make handsets functional internationally.
Visa plans to expand a mobile payments service to the register so that payment can be made through smartphones by the end of the year.
As already mentioned, there are huge gains to be had by the eventual market leaders, and this will be an exciting industry to watch. We'd love to hear your thoughts on the evolution for mobile payments and which companies will be the winners, or even better, see you sign up for a free trial of Recorded Future and enter your findings in our January analysis contest.