Has Hu Jintao's Behavior Changed? | Recorded Future
As we've noted previously, Hu Jintao was a very active traveller in 2009 and an active participant in international meetings. However - after his non-appearance at the global warming summit in Copenhagen (when he was busy doing energy deals in Kazakhstan and Uzbekistan) his travel activity has decreased, his coverage in media as fallen, and finally, his external communications have plummeted.
We will explore these patterns and discuss their potential implication.
The "official view" on change in leadership in China is that in 2012 both Hu Jintao and Wen Jiabao will step down (when Hu's maximum tenure is up, by the time of the 18th party congress), and the current vice president Xi Jingping will step up to become the new president. We can very easily see this in Recorded Future by just typing EmploymentChange Hu Jintao Future - and get the below result.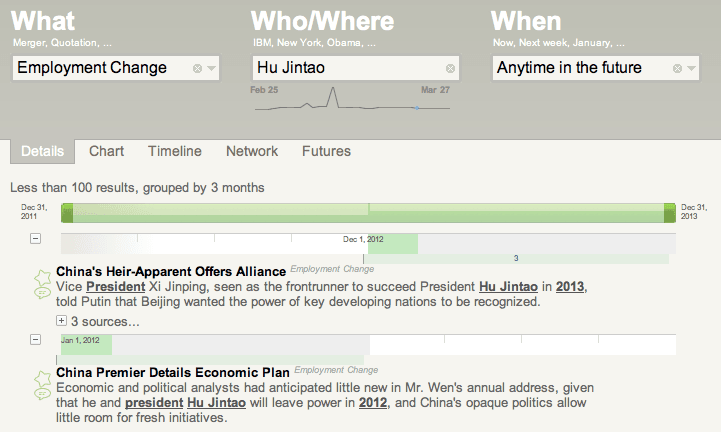 For updates on the future of Hu Jintao, click the below link and fill in your email address - and you'll be subscribed to a Future for Hu Jintao (very easy to unsubscribe!).
Sign up for Hu Jintao Future
Travel Patterns
First we review the travel patterns of Hu Jintao in 2009-10 by posing the question Person Travel Hu Jintao 2009-01-01--2010-12-31. We can visually inspect how President Hu's travel has shrunk across 2009 and even come to a stand still lately (including uncertainty around a trip to the US in April for a key nuclear weapons summit). In 2009 Hu visited a whole set of countries, key meetings, and world leaders.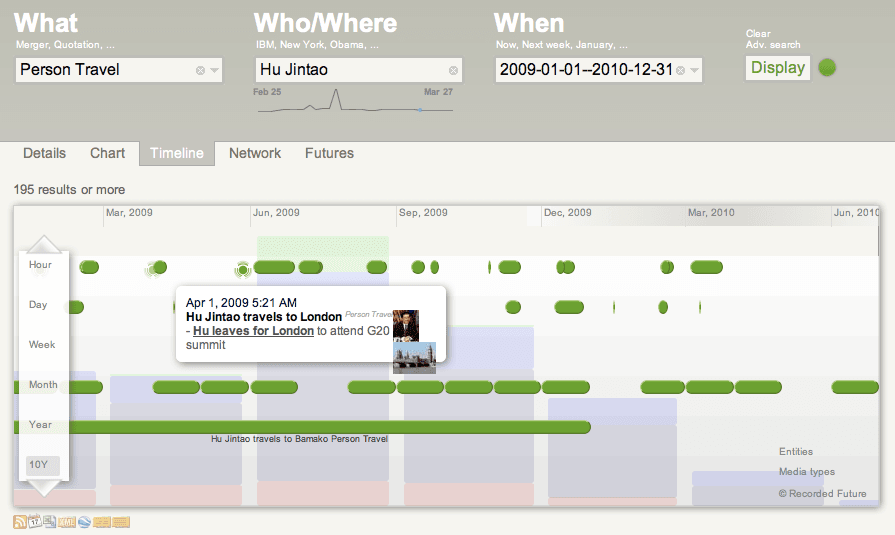 We can also export these travel patterns to Google Earth to visually and geographically review where President Hu has travelled across time. Click here to explore Hu Jintao's travel patterns in Google Earth.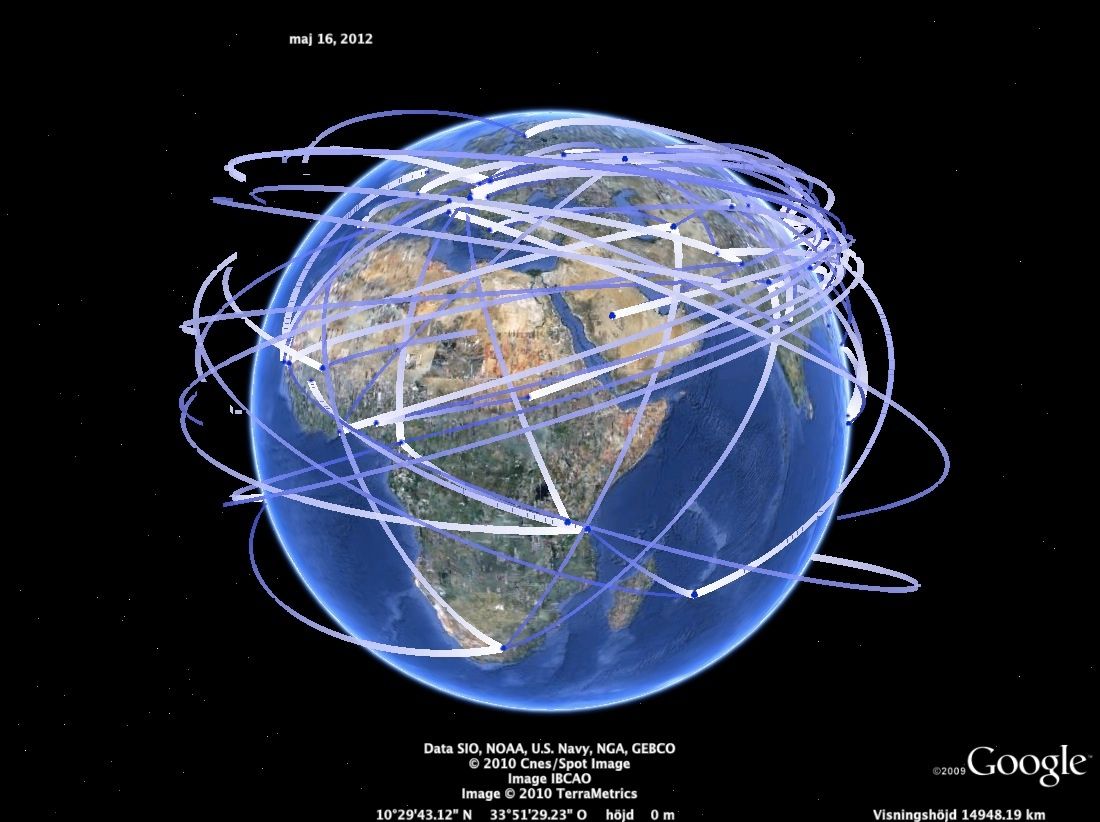 To stay abreast of Hu Jintao travel click the below link to subscribe to a Future on travels of Hu Jintao.
Sign up for Person Travel Hu Jintao Future
Personal Communication
Personal Communications include meetings, phone calls or direct verbal communications - that Recorded Future picks up in news, blogs, government filings, speeches, etc. Just like we reviewed travel patterns we can review the personal communications of Hu Jintao. During 2009 we recorded a large number of public communications including Hu Jintao.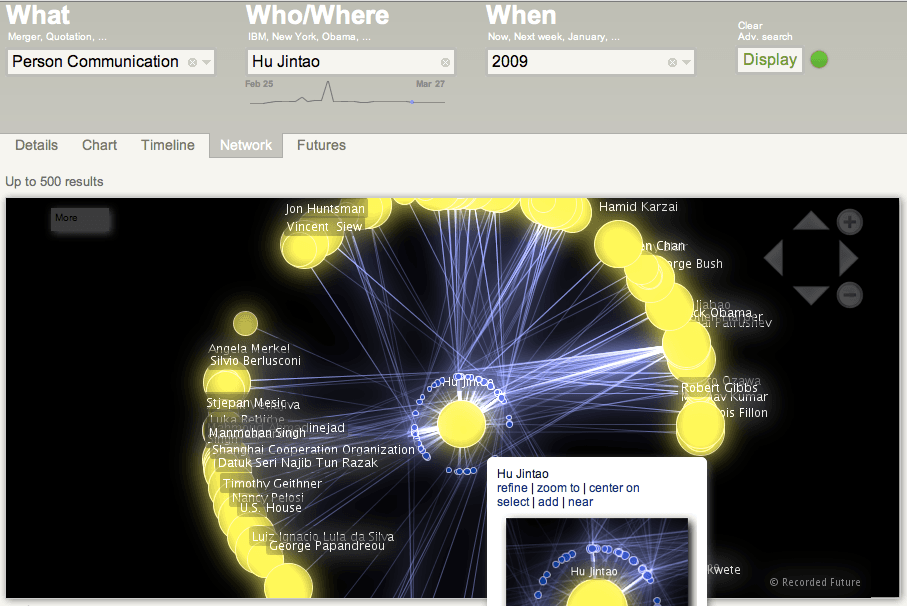 However, in the first quarter of 2010, Hu Jintao's public communications seem to have come to a halt as well, with only a few interactions being recorded, including Russian premier Putin, head of North Korea Kim Il, Barack Obama, and Harmid Karzai who recently visited in Beijing.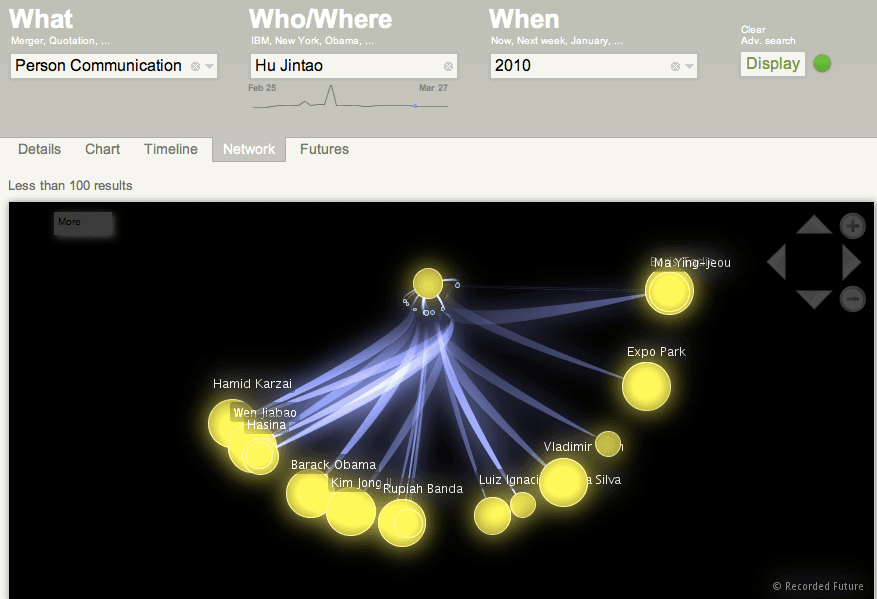 Quantitative analysis of media flow
Now, the above analysis of reviewing travels and communication patterns may be quite insightful and compelling, however it might be that we miss signals that requires more rigorous quantitative analysis. The below plot shows the volume of media flow on Hu Jintao across the world - in a so called SPC chart allowing us to find extreme levels of media flow - when it goes outside say 3 standard deviations or when there is an improbable run of higher or lower than average levels of media flow. The data is normalized and low media flow/weekend days are omitted in an attempt to show "true outliers".
The visualization is produced in R using the Recorded Future news analytics API. We will shortly share an entry in the Predictive Signals blog on how these were done.
An interesting note: from the end of 2009 President Hu seems to be disappearing off the face of the earth compared to earlier. We can't answer exactly why - but clearly it is a signal that correlates with the above patterns of communication and travel.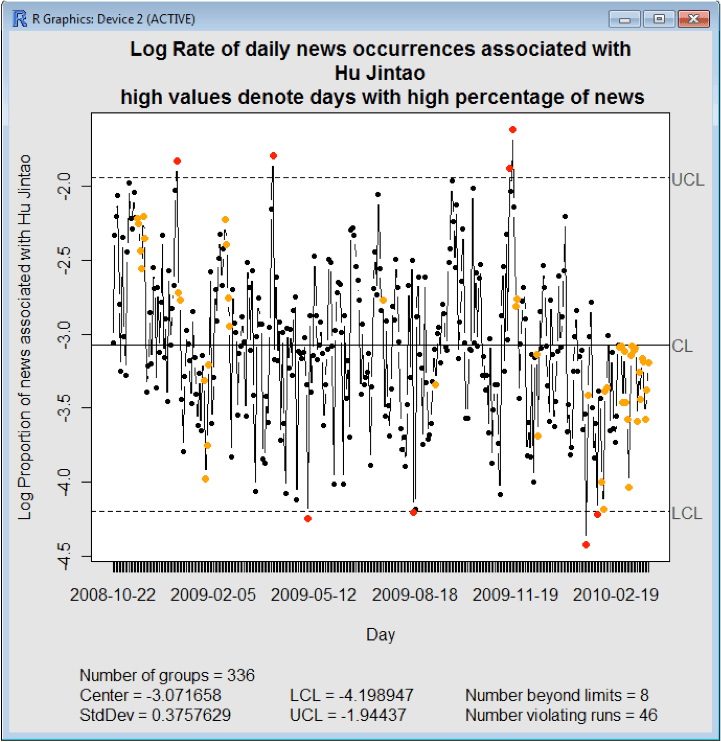 Now then, when comparing, on a normalized basis, Hu Jintao to Wen Jiabao it gets even more interesting. Whereas both them had a "media lull" around Christmas/Chinese New Year, Wen Jiabao has had an upwards trend in general and has come back strongly after the holidays. We might try to draw some "big conclusion" from that, but probably too early.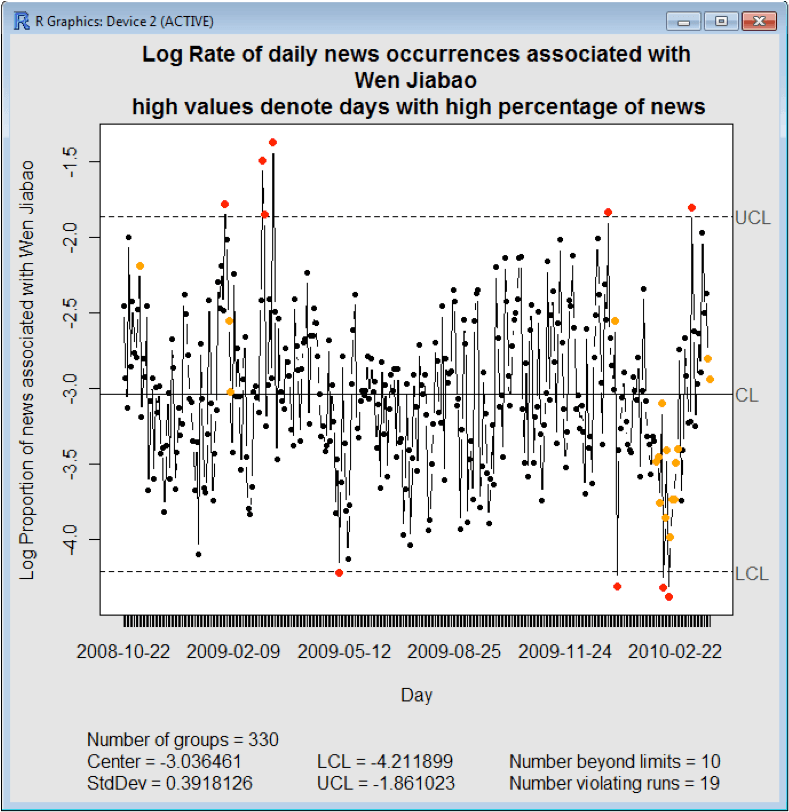 Detecting co-occurrence in media flow
Finally we will explore media co-occurrence of key Chinese leaders over time, to see if we can find anything interesting regarding who is clustering in their behavior. To identify the key Chinese leaders along with Hu Jintao and Wen Jiabao, we consulted the CIA World Factbook/Word Leaders on China and extracted a set of key leaders with good coverage in Recorded Future. The below visualization (done in R) displays a dendrogram with Chinese leader clusters who's behavior is similar in terms of media coverage over time (i.e. reaches peaks and lulls at same times). The theory would be that co-occurring in media systematically could infer subtle patterns alignment in behavior - such as part-taking in same events, travelling together, co-occurring in same speeches, etc.
Perhaps the most interesting thing is to look atXi Jinping, the rumoured president to be. By exploring who clusters closely to him we might be able to find clusters of politicians that are close to him that we should watch in terms of their behavior and actions. Yin Weimin clusters the closest, his current portfolio is modest. Yang Jiechi, minister of foreign affairs, has had much more strong views on the US and its relationship to the China. Definitely worth watching.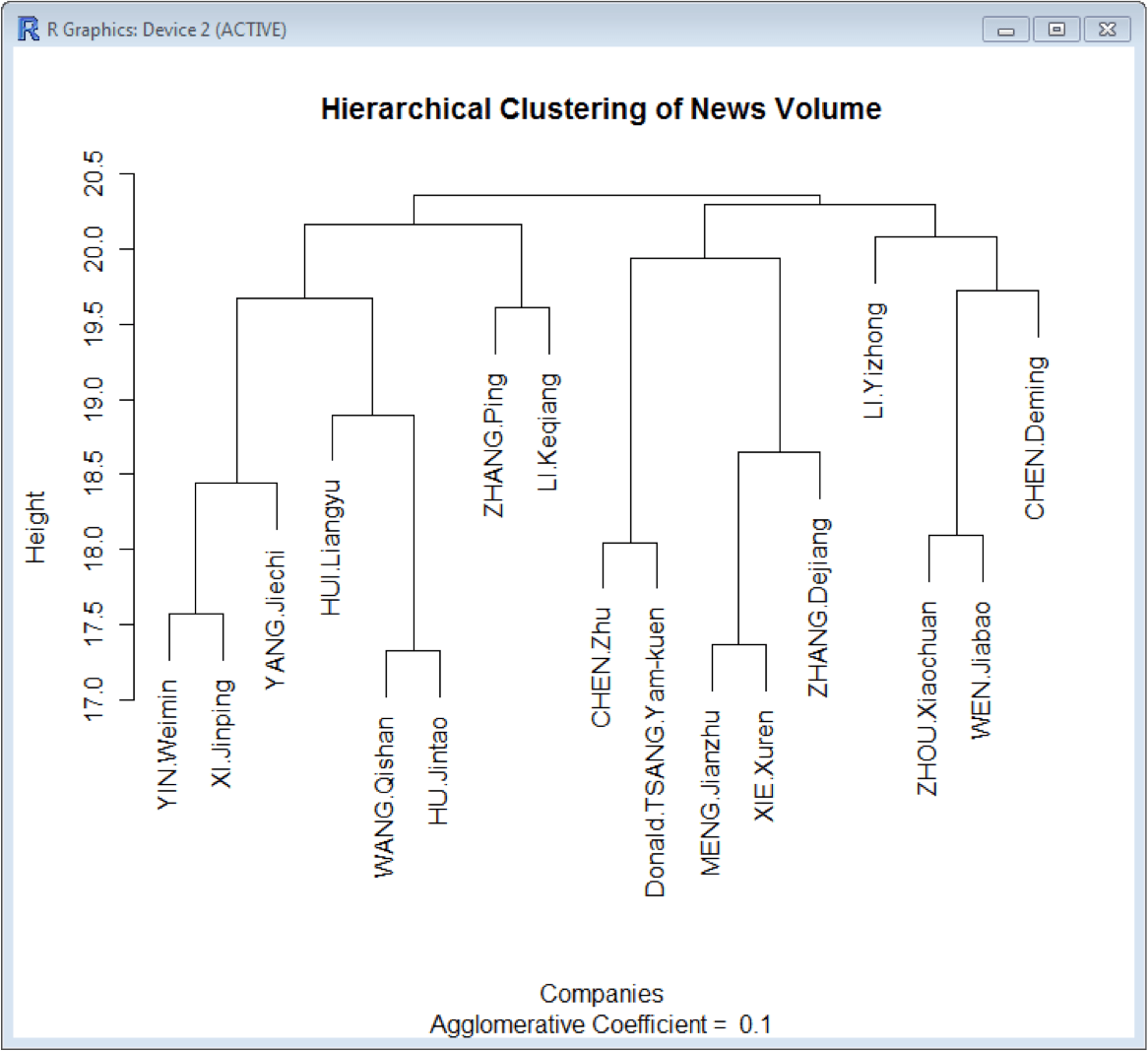 Conclusion - using media behavior as a proxy for real life behavior
Hu Jintao is a very powerful leader - in fact has been noted to be one of the most powerful in the world. Knowing who takes over after him is of paramount importance. If everything goes to plan and he stays in place until 2012 we will have plenty of time to get ready. If something happens before then we'd want to detect such signals early. That's what we have tried to demonstrate here - how you can detect differences in behavior - travel and communication behaviors, as well as media behavior which is an indirect way of detecting change - be it association with others, activity level, etc.
There is much to do from here - such as:
Deepening the data set to include a wider variety of people beyond what's in the CIA World Factbook, such as military, corporate, and local leaders (e.g. mayors in China are quite powerful) - as well as actual Chinese language media
Normalizing across the set of people in focus rather than the whole media flow
Cluster people based on not only momentum in media but also factors like sentiment. Who is angry at the same time?
The Predictive Signals blog will soon run a deeper analysis of this and demonstrate some of the techniques in detail.