Growing Recorded Future in Ukraine
Posted: 
1st September 2022
We're building Recorded Future to be the world's strongest and largest intelligence company. We are now close to 900 people and well beyond $200M in sales. We collect, organize, and analyze massive amounts of data every day and turn it into intelligence at a tremendous scale. Our teams are built on a magic combination of computer scientists, data scientists, and intelligence analysts - which together has allowed us to build a real time intelligence platform that is far beyond what any other organization has built.
Recorded Future immediately took a very strong stance regarding the Russian invasion of Ukraine. We have tried to support Ukraine in every way we can, with Recorded Future now being used across institutions of Ukraine in support of cyber defense.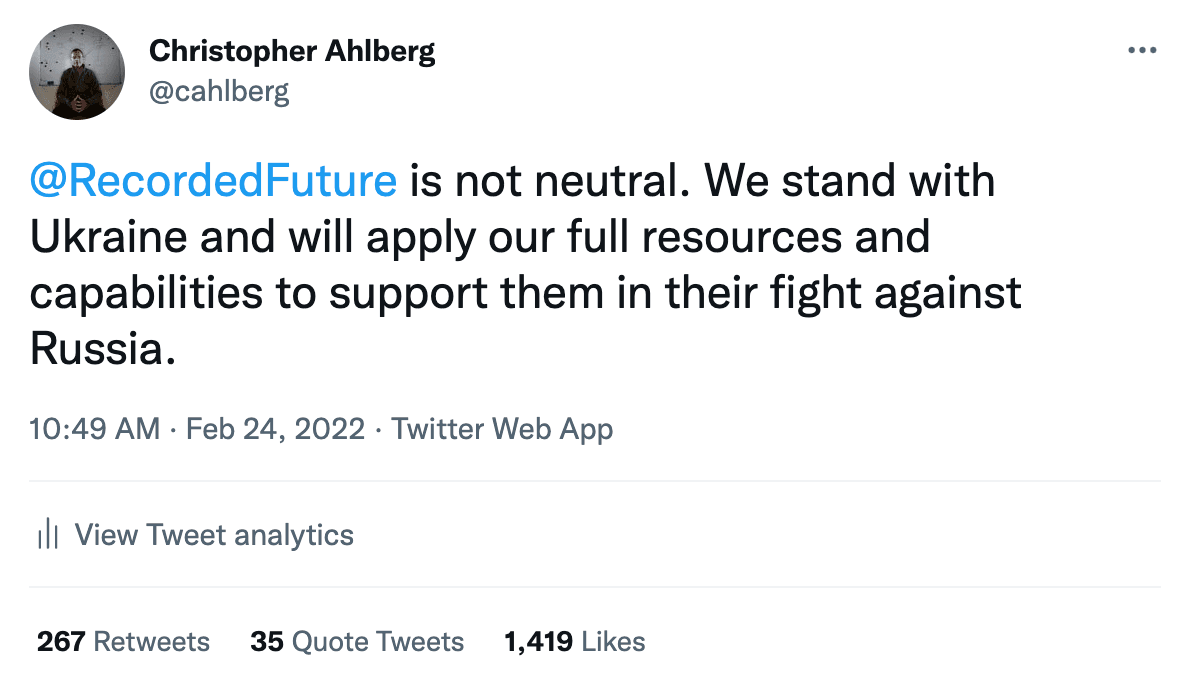 What is perhaps unknown, is that Recorded Future for a good while has had a strong developer presence in Ukraine. Our developers there have built exceptional software, collected important intelligence, created key datasets, etc. We're now going to build on this success. Over the next 2.5 years we're planning to hire 100 more people in Ukraine; software developers, engineers, data scientists, intelligence analysts, and other roles. Recorded Future Ukraine RO is ready to grow!
To our friends in Ukraine - please check job descriptions like this Software Developer, Applications, Software Developer, Platform, Software Developer, Integrations, and QA Engineer. We're ready to put you to work. We are looking for superb technical skills combined with awesome abilities to work in great teams. English skills are important.
Together we can build important software and intelligence - and in the process make life miserable for Russian Orcs .
Slava Ukraini!
Christopher Ahlberg, Co-founder and CEO