The Future of Macro Technology Trends in Defense and Intelligence Computing
What is the future of mobile, cloud computing, social media, and big data?
How can the Defense and Intelligence communities leverage the commercial applications of these emerging tech categories?
And how can we predict future breakthrough moments in technology through the use of web intelligence?
We answered these questions in our recent webcast called, "From Emerging Trends to Horizon Scanning: What's Next in Government Computing?"
Recorded Future's Matt Kodama, Chief Product Officer, and Dr. Bill Ladd, Chief Data Analyst, along with AJ Clark, President of Thermopylae Sciences and Technology held a lively discussion, with both Government and Commercial sides represented.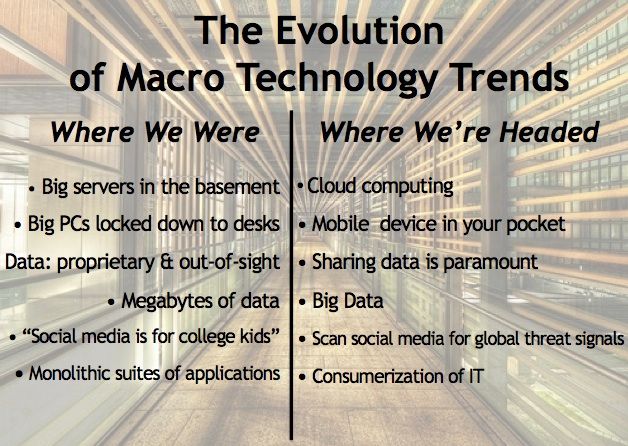 Matt Kodama began the discussion by providing statistics demonstrating the remarkable acceleration of the rate of adoption of technologies like mobile, big data, social media and cloud computing, and how this rapid adoption has changed our digital lifestyles, as well reset expectations about the breadth, depth and accessability of data.
The panelists then took a deep dive into each tech trend's evolution in the commercial and government computing environments.
For example, AJ Clark related how the 2010 Haiti earthquake was the catalyst for the government computing community's understanding of social media's potential to provide massive amounts of critical information about global events, and how that community has since then taken a lead in using web intelligence derived from social media, combined with emerging technologies like geo-mapping, to assist in other humanitarian crises. Bill Ladd summarized the social media tech trend by saying "social media is essentially a sensor for things we don't know we're already measuring."
AJ also talked about the challenges (and benefits) of putting sensitive government information into a commercial cloud computing structure, due amongst other things, to declining budgets. He talked about some inventive ways to approach those challenges.
Finally Dr. Bill Ladd wrapped up the discussion by describing Recorded Future's horizon scanning work and how our monitoring of future references, multiyear trends, and the convergence of technology terms can predict tech breakthrough moments. He showed Recorded Future's research on biotech discussion patterns in the Chinese media to demonstrate our horizon scanning work.