Black History Month: ERG Employee Stories, Impact, Community & Celebration
Posted: 
14th February 2023
Recorded Future's Black Empowerment and Support Team (B.E.S.T.) leads meaningful efforts and initiatives toward the group's mission: to advocate for Black and ethnic minority employees, help them succeed, be recognized, and deliver results to create positive change within and outside the organization.
Hearing From B.E.S.T. Members
To commemorate the U.S. Black History Month, we want to share the stories and insights of some of our B.E.S.T. ERG members. We are grateful to learn from their contributions and experiences, understand why the work of our ERGs matters to them, and get valuable insights for the present and future of our organization.
We talked to Maxwell Shololo, Customer Success Manager in Italy, and Carlton Blount, Senior Manager for our Public Sector Intelligence Services team in the US.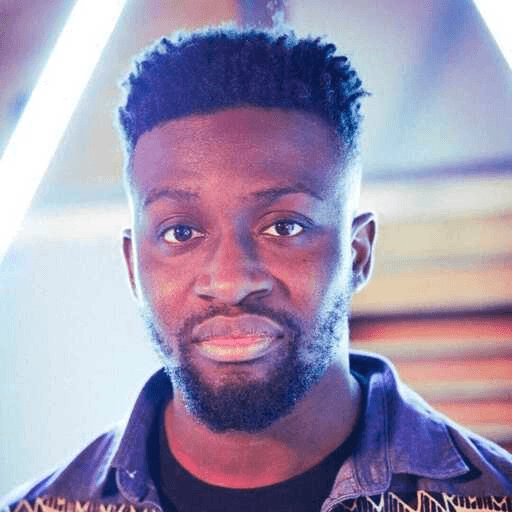 Maxwell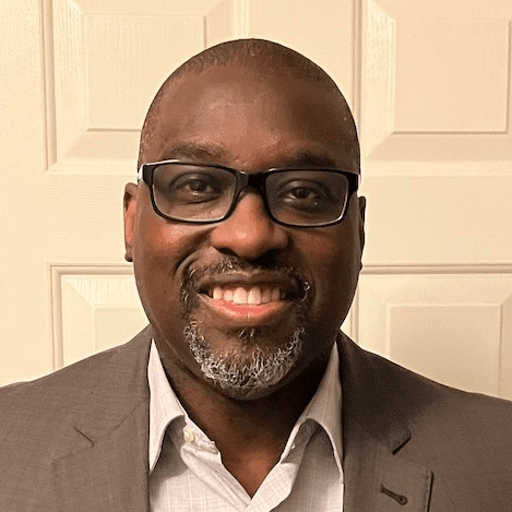 Carlton
Covering the Basics: A Bit About Yourself
Maxwell: "My name's Maxwell, but I go by Max. I've lived in Milan for the past 30 years, but I'm originally from Ghana. I'm a very curious person and I'd like to try anything at least once. I have a great passion for all types of music, I play 3 instruments and produce."
Max has been at Recorded Future for 6 months. He joined as a Customer Success Manager within our Intelligence Services team. When our recruiting team reached out, Max had been looking to transition into the Cyber Intelligence space and was eager to join a more dynamic environment.
"It was perfect timing. So, when given the opportunity, I seized it."
As a CSM for the EMEA region, Max is a trusted advisor for Recorded Future's clients. He ensures that clients make the most of our platform. In this consultative role, his focus is on building trust, loyalty, and long-term satisfaction.
Carlton: "My name is Carlton but I often go by my callsign from my Navy career…MEL. I am 55 years old and I came to Recorded Future after a long career in the Navy both in uniform and as a government civilian. I've been married for more than 28 years and my wife Beth and I have two children, Ethan and Jada, and a dog Baxter."
Carlton is a Senior Manager on the Public Sector, Intelligence Services Team and just celebrated his one-year anniversary at Recorded Future. Carlton first heard of Recorded Future about seven years ago. He was running the Navy's drug interdiction support program who were always looking for open source capabilities.
"I knew then that Recorded Future was a quality company that offered a tremendous opportunity for the Intelligence Community to exploit publicly available information in a much more meaningful way."
Carlton is on one hand responsible for his team's overall performance and on the other acts as a program manager which entails more direct interaction with our clients optimizing the customer experience.
What It's Like Working at Recorded Future For You
Maxwell: "What I love the most is being surrounded by a lot of talented and smart people that take their responsibilities very seriously, but at the same time everyone I've met, is super friendly and willing to help each other. Futurists understand that diversity isn't something that needs to be acknowledged and respected theoretically, but also practically: being committed to our values through concrete actions. ERGs create safe spaces for their members while helping them become the best version of themselves."
Carlton: "Early on, I noticed that Recorded Future not only talks the talk but also works to walk the walk. When I discuss Recorded Future two themes always come up: that the company and its people are incredibly accepting and that there is this constant pursuit of improvement for themselves and others. There is a real propensity to try to lift up those around you. I'm proud to work for a company that seeks to live by its principles." Read: Setting The Scene - Company Values, Our Guiding Principles
Side by side with our other ERGs (OUT@RF, Women@RF, Veterans@RF, Ohana, RF's Latin Network) and global culture group, B.E.S.T. helps foster an environment where employees can thrive and be themselves. Throughout the year, chairs and members organize fireside chats, hold local and global events while supporting black-owned businesses, attend tech events and conferences focused on advancing the black community and promoting more diversity in the field, and work with community partners and visit schools to inspire young folks to a technological path.
This month, amongst other things, B.E.S.T. is celebrating the U.S. Black History Month with special guest Dr. Byron Lowens who is joining us for a fireside chat and panel discussion exploring the intersection of cyber threats and systemic racism and how it disproportionately affects Black communities. Read our Insikt Research Team Report on Cyber Threats to the Black Community (2021)
Celebrating Black History Month
What do you have planned for Black History Month and the future?
Maxwell: "Black History Month is a good reminder to reflect on identity and history beyond the mainstream, applying a critical lens to what we know and what we are taught. Specifically, I'd like to dive more into what blackness means in different parts of the world, in the professional space, and understand how it can be a shared experience even for people that have different nationalities, views and experiences."
Carlton: "I think that we all have a need to connect to our past and understand that those that came before us made it possible for us to live with the privileges that we have today. We live in an imperfect world but it's important to understand that so many have worked hard and sacrificed to create progress. Within the ERG, my hope is that we can build on that foundation and carry the torch forward, continuing to build the great sense of community I experienced"
Why Get Involved in B.E.S.T. / ERGs
Maxwell: "I think it's important to connect with colleagues on levels that are not solely professional. It helps us understand how work life can be deeply different for people with specific realities and experiences. ERGs put the focus on people. And being valued as individuals helps us on a personal level, not only professionally."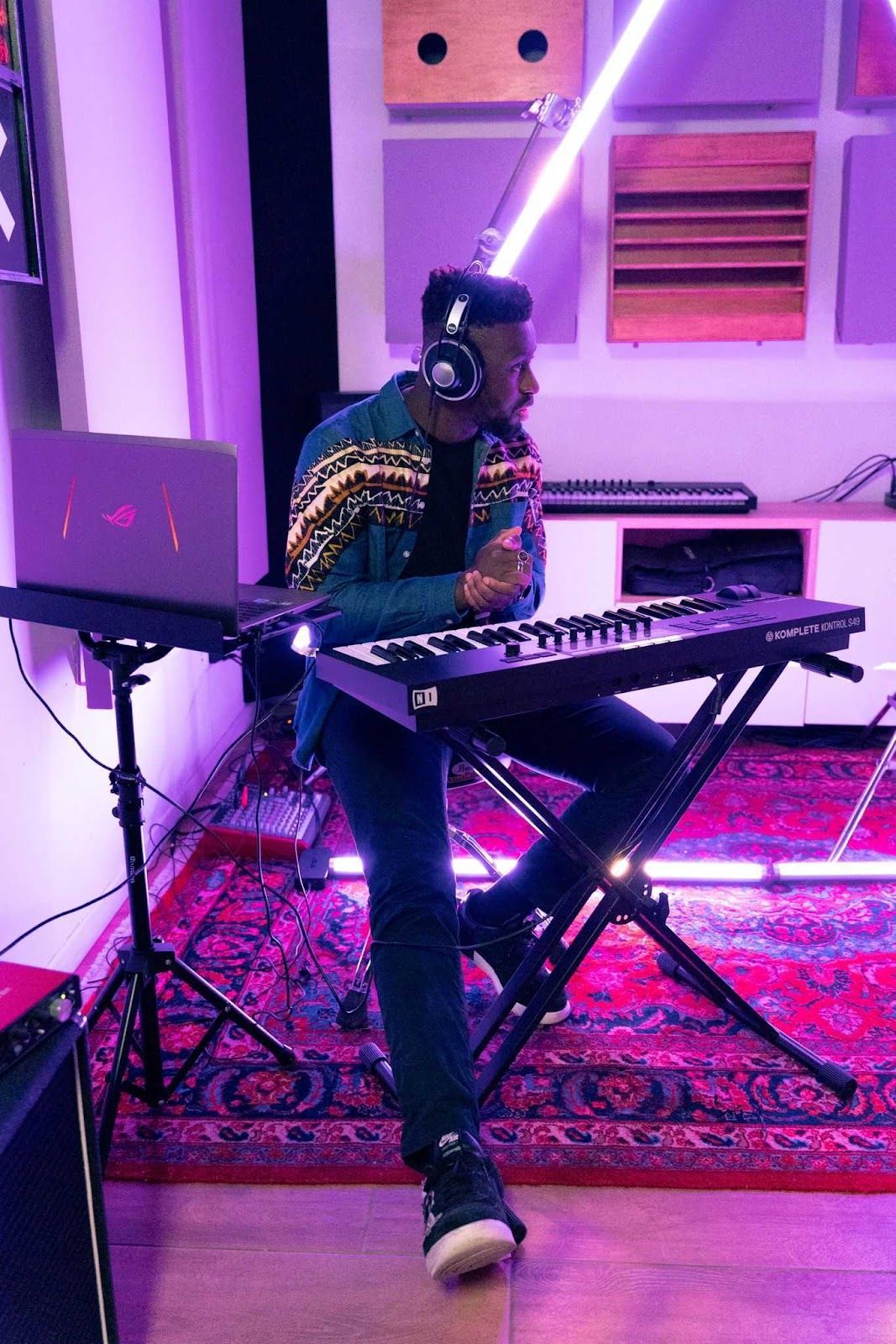 Max playing music for a friend at an improvised "Tiny Desk".
Carlton: "The ERG not only offers a safe space for the exchange of mutual support, ideas, and experiences but also a place where one can't help but be inspired by someone in the group."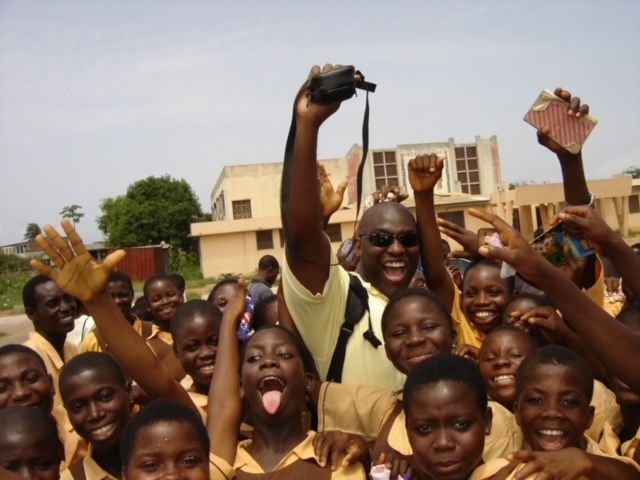 Carlton visited Ghana and met school children. One of his favorite experiences.
We are honored to showcase the perspectives and narratives of some of our B.E.S.T. ERG members. It's been inspiring to learn from their contributions and experiences and understand why the work of our ERGs is meaningful to them. If this resonates with you, we encourage you to find out more about job opportunities at Recorded Future.