APIDA Heritage Month: ERG Employee Stories, Community, and Support
Over the last few months, we have shared information about our Black Empowerment Support Team and Women's Resource Group. This month, we are highlighting the work of another ERG at Recorded Future.
Recorded Future's Ohana ERG is one of 6 resource groups. Ohana seeks to create visibility and community among employees who are Asian, Asian American, Pacific Islander, Desi or who are from the Asian Diaspora (the common shorthand being "AAPI"). "Ohana" is a Hawaiian term that refers to an extended family.
It is important to mention that the term APIDA (Asian Pacific Islander Desi American) has recently been adopted to be more inclusive of South Asians. We'll be using this shorthand throughout our blog post today.
Ohana was created in the midst of COVID-19 when discrimination against individuals of Asian heritage was on the rise throughout the world. Ohana not only creates a safe space for its 100+ members but also supports the growth and development of our Asian Futurists. Community impact through the support of local and global organizations is also a big part of Ohana's mission.
Covering the Basics
In honor of APIDA Heritage Month we interviewed two of Ohana's leaders: Jathan Anandham and Christina Tsui.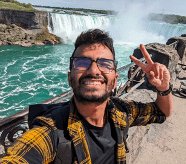 Jathan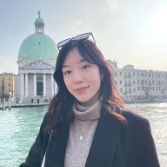 Christina
Jathan is an Intelligence Consultant within our Client Success team. He is responsible for some of our West Coast clients. In his day-to-day role, he helps our users understand how to use the Recorded Future Intelligence Cloud, and how to use it as part of their security functions, all the while building trust and long-term success.
Originally from India, he grew up in Texas. He describes himself as a "a pleasure to have in class." He believes buying video games to play them is a cool hobby, but that buying them and not having the time to play them is as valid a hobby. His current obsession is with data archival for which he acquired several VCRs and cassette players from the 90s. _ "I have had the pleasure to work with all of you gems for approximately 1525 days at the time of writing this"._ We will let you do the math, but Jathan was there when Recorded Future was about 400 employees, and we recently crossed the 1000 employees mark.
Christina is currently a part of our Marketing creative team, after recently transitioning from Sales Enablement at Recorded Future in the Boston office.
Christina has been at Recorded Future for 3 years. She is double majoring in Communication and Arts researching the relationship between the reinvigoration of art therapy and contemporary art. She enjoys trying new foods, creating music, and volunteering in her community in her free time.
What It's Like Working at Recorded Future For You
"When I first started at Recorded Future, I remember telling myself that I had never experienced a work environment as welcoming as Recorded Future."
Christina: "There is a huge emphasis on making sure we have a safe and motivating culture here, which can be hard but collectively we make it work."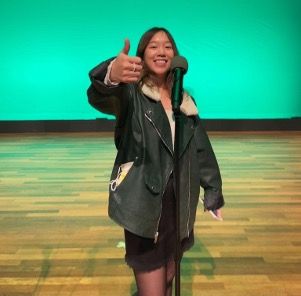 Christina getting ready to perform at Boston University's Culture Show in 2022!
"One of my favorite things about working at Recorded Future has been the friends I made along the way."
Jathan: "Futurists are committed to making our company ethical and inclusive. Many of the people here have become some of my best friends, all who have helped the company grow significantly. They are some of the brightest, most diligent, and most passionate people I've met."
"I started working at Recorded Future when I was a sophomore in college so to say that I learned so much is an understatement."
Christina: "To thrive in a very fast-paced environment will always be challenging, but it has taught me so much about myself, whether it's my work ethic or learning how I can utilize the best version of myself in the corporate world."
Celebrating APIDA Heritage Month
"Creating and fostering a community open to sharing their experiences and support each other is our number one goal."
Ohana has a lot planned to celebrate APIDA Heritage Month. Amongst other things, they will host several Meet & Greets, a language sharing session, and organize dinners with our local team members, a book reimbursement, and a trivia game. Later through the year, there will be some guest speakers and fireside chats!
One of their goals this year is expanding the reach of the ERG to be more global and engage with as many Asian Futurists and allies across offices and locations as they can.
Christina: "We have many employees all over the world. I know that some might feel too shy to join because they think they will not be able to contribute but Ohana is for everyone at Recorded Future! I hope to create a more welcoming environment for everyone, especially those not in the US."
Why Get Involved in Ohana / ERGs
Jathan: "I wanted an opportunity to connect more internally within the company and I loved the mission. Because the ERG was formed amidst Stop AAPI Hate and important world events, there was a lot that we could do to support the community, especially from our unique perspective as an Intelligence community.
For instance, in 2021 our research group published a report about threats to the Asian Community. It not only helped comprehend real-world problems but also offered insight from a unique perspective from both the security community and as Asian-Americans." Read: Threats to Asian Communities in North America, Europe, and Oceania (Insikt Group®)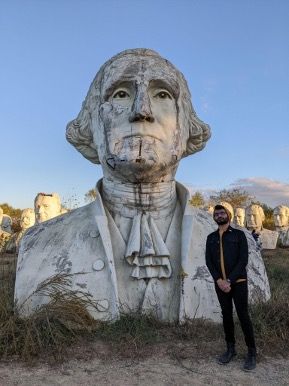 Jathan at Presidents Park in Williamsburg, Virginia
Christina: "Employees are the foundation of every company's success and strong ERGs allow for these employees to feel supported and valued - without that, foundations can't endure the challenges that come with growth."
"Seeing the impact that our work had and how it is able to bring people together is something really special."
Jathan: "I am proud to see that a lot of the events that we have put together, and the messages we shared, resonated with our members and have been engaging for everyone. I also had the opportunity to travel the globe with many of our other Futurists, and being able to meet with so many of the members of Ohana face-to-face has been such a great experience. Perhaps it is lesser known, but outside of the fun stuff we've worked hard internally to provide resources to members in times of grief and supported efforts to increase diversity and inclusion in our recruiting."
Christina: "In the past, ERG groups for me felt under-represented as it was facilitated by administration instead of being employee-led. It created a disconnect and a lack of authenticity and interconnection. Here at Recorded Future, the communities that we create feel more genuine and rewarding."
Over the years, Ohana has put together a lot of great events, hosted impactful speakers, raised awareness, and given back to the community. They have supported multiple organizations related to education, workforce development, and mentoring of the Asian communities around us.
We are so grateful for our ERG members' and ERG leaders' commitment to making Recorded Future a more diverse and inclusive workplace and for sharing their stories with us. If you're interested in joining our team and becoming part of a vibrant and supportive community like that of Ohana and our other ERGs, check out our careers page and apply today!