Email Alerts Now Available in Recorded Future Enterprise
Posted: 
6th December 2013
We recently introduced a new alerting capability for our Enterprise customers. These alerts can be set up to notify you about new references to any event query in Recorded Future Enterprise. The new reference-level alerts complement the trend-based alerts in our threat intelligence applications, which detect shifts in threat signals.
How to Set Up Alerts in Enterprise
These alerts notify you of new references to events that match any question you might be asking of our web intelligence. The sample alert below delivers news of cyber events related to Japan: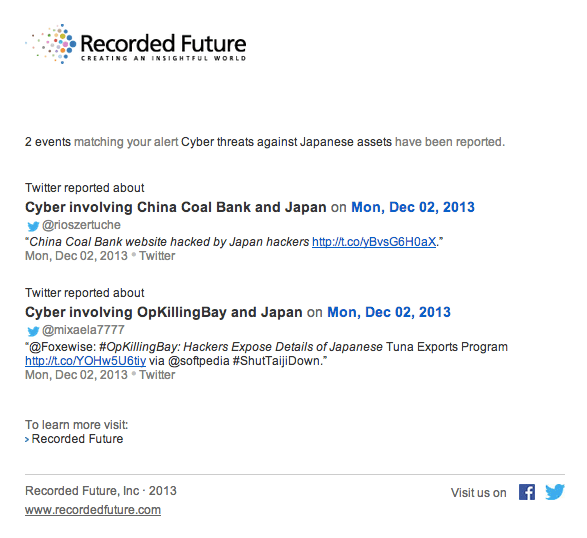 It's easy to set up email alerts as you go about your research in Recorded Future, and each alert can be individually configured for delivery at intervals (15 minutes, hourly, or daily) to best fit your requirements and workflow.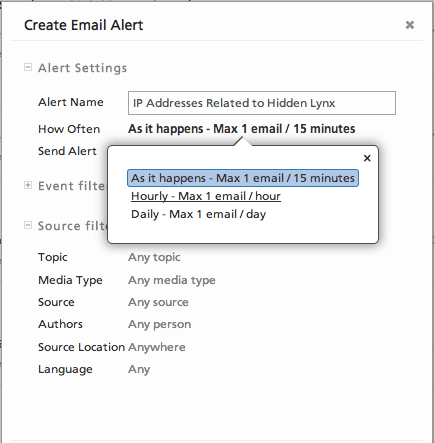 An alert is triggered when a new reference matches the parameters of your alert query. While initial event reporting may be updated or syndicated across new sources, our alerts will only show references analyzed by Recorded Future after the last email was sent.
We have expert tips prepared as you set up the first few alerts that will help you achieve the most precise and actionable results:
Check the volume of references that match your query before setting up an alert. Big queries will result in many alerts, and you may want to consider making the query more precise using event types, keywords, or adjusting the time parameters.

Select an appropriate and actionable event timeframe for your alerts. If you're looking at forecast events, don't necessarily set up your Enterprise alert for any future date. Instead, choose the next 30-60 days or other relative timeframe.

Choose the appropriate frequency for your alerts. Popular topics will result in lots of emails. Try setting new alerts as daily instead of hourly or as-it-happens. After you're comfortable that an alert is capturing the right content with little noise, then increase tempo.
For longtime followers of Recorded Future, you might remember our earliest product called Futures: email alerts that delivered information about future events on a selected topic of interest.
The new alert functionality in our Enterprise platform takes that concept much further by providing powerful flexibility in selecting media categories, source location, language, and the expected ability to define particular events and timeframes.
Ready to start? Fire up the how-to article on our support site and then login to Recorded Future.