Applying Threat Intelligence to the Diamond Model of Intrusion Analysis
As an analyst, you may have come across various threat models in your career. In the cybersecurity and threat intelligence industries, there are several approaches used to analyze and track the characteristics of cyber intrusions by advanced threat actors. One popular approach is the Diamond Model of Intrusion Analysis. This model emphasizes the relationships and characteristics of four basic components: the adversary, capabilities, infrastructure, and victims. The main axiom of this models states, "For every intrusion event, there exists an adversary taking a step toward an intended goal by using a capability over infrastructure against a victim to produce a result." This means that an intrusion event is defined as how the attacker demonstrates and uses certain capabilities and techniques over infrastructure against a target.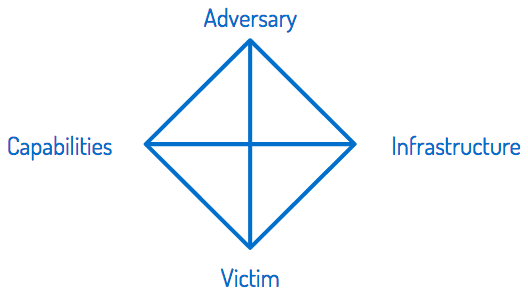 Using Recorded Future, it is possible to uncover additional details about the adversary, infrastructure, capabilities, and victims in order to piece together a more cohesive picture of the threat and how that threat operates. These additional data points can complement internal data and other intelligence in correlating and attributing malicious activity to an adversary.
By looking at a threat actor Intelligence Card™ in Recorded Future, we can see that this entity qualifies as the adversary component of the Diamond Model quite nicely. For example, the Dark Caracal Intelligence Card™ (below) shows us information about this adversary, including name, any nation-state affiliations, and analytical notes added in by the Insikt Group.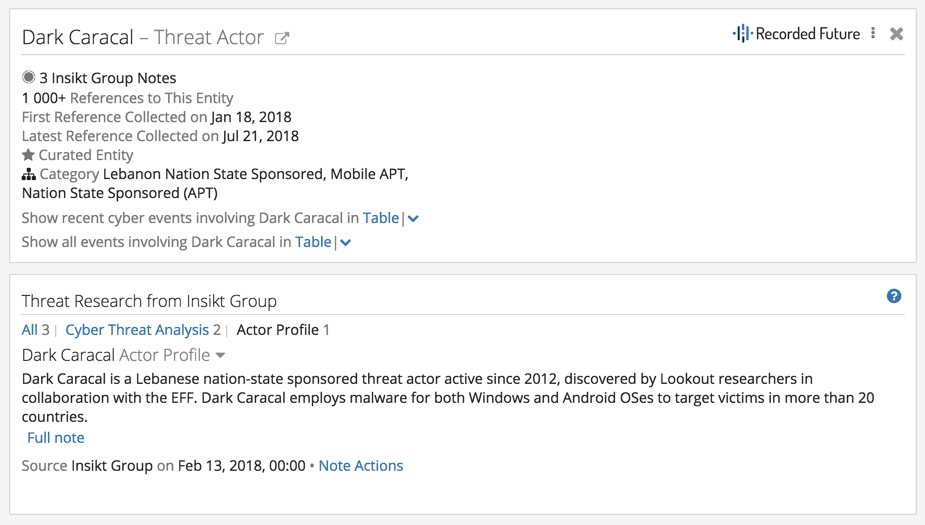 The Diamond Model threads adversaries with developing capabilities and techniques that are unique to that group. In Recorded Future, the Methods context directly translates to the Capabilities edge of that model. As shown below, it's obvious that this adversary uses distinct malware and attack vectors as part of its capabilities and TTPs (tactics, techniques, and procedures). We can study additional capabilities by clicking the Timeline link below the Methods list to get a temporal visualization of the capabilities leveraged.

Adversaries also operate within an infrastructure to conduct their intrusions. This infrastructure can be composed of IP addresses, domains, botnets, and technologies in general. In our example, we can see that Dark Caracal is associated with a combination of indicators. As a starting point, these entities represent possible infrastructure and should be immediately correlated with internal network data to qualify intrusion investigations. A scenario would be seeing compromised Android devices connected to the corporate network communicating with command-and-control (C2) servers. The Technology, IP Address, Domain, Product, and Email Address sections of the Context in the Dark Caracal Intelligence Card™ can be used to describe part of that infrastructure, as shown below.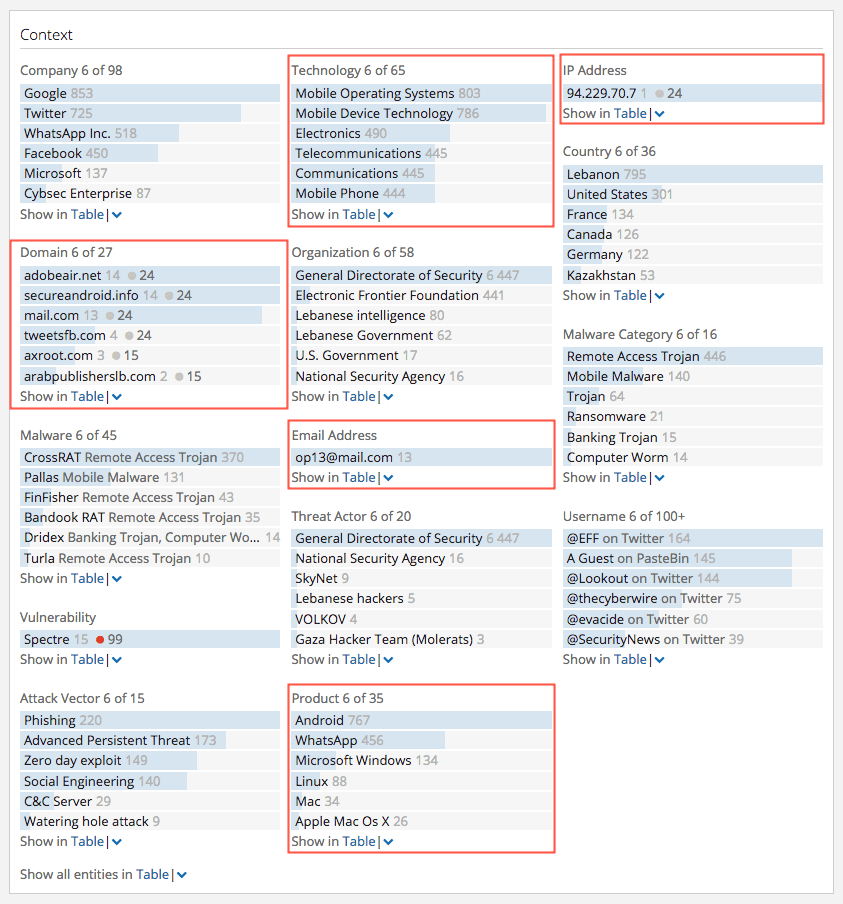 Finally, we can attribute the victims component of the Diamond Model using a combination of the Target list and any associated Operations. Threat actors who are affiliated with nation states often have an objective that is different than those of non nation-state actors. The main differentiator here is that nation-state threat actors display advanced persistence and are not directly motivated by financial gain — rather, they conduct their operations over a long period of time to extract intelligence in support of larger objectives. Therefore, any targets and operations should be looked at more closely to determine who the victim ultimately is. In our example, we see that several targets and one operation are listed in the Methods, Targets, and Operations section of the Intelligence Card™.

Although some of the targets include technologies and products, a close examination of the operation "Operation Manul" reveals that journalists, lawyers, activists, and government institutions were targeted. Therefore, it makes sense that the threat actor targeted physical devices and products as a means to compromise those victims.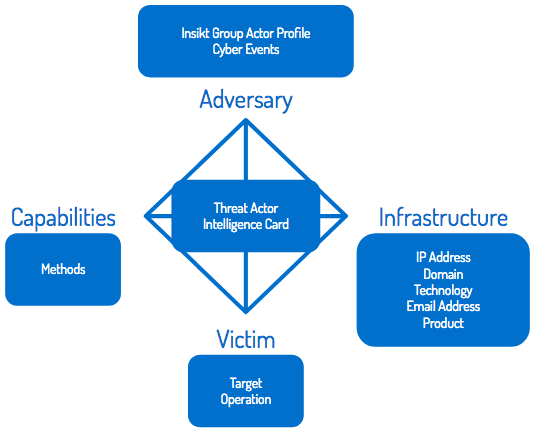 In short, you can use Recorded Future to complement cyberattack analysis frameworks such as the Diamond Model of Intrusion Analysis. By looking at several parts of the threat actor Intelligence Card™, we can leverage open sources to help analysts piece together a more complete view of campaigns and track their evolution in the hopes of avoiding and mitigating potential attacks in a more proactive way.