Combating Human Trafficking With Threat Intelligence — Prevention
Posted: 
11th January 2022

Editor's Note: The following post is an excerpt of a full report. To read the entire analysis, click here to download the report as a PDF.
Recorded Future analyzed current data from the Recorded Future® Platform as well as dark web, closed sources, and open sources to identify threat intelligence solutions to aid prevention efforts in combating and mitigating human trafficking. In this report, the first of the 4-part series, Insikt Group will provide threat intelligence solutions to aid prevention efforts to combat human trafficking. In subsequent months, Recorded Future will publish 3 additional reports covering protection, prosecution, and partnership efforts, offering threat intelligence solutions, where applicable, and mitigation recommendations.
Part 2: Combating Human Trafficking With Threat Intelligence — Prosecution
Executive Summary
Eradication of human trafficking requires the expertise, resources, and efforts of many individuals and organizations. It is a complex issue requiring a multifaceted approach set in the United Nations' Palermo Protocol known as the "4P" paradigm — Prevention, Protection, Prosecution, and Partnership. The 4P paradigm serves as the foundational framework used universally to combat human trafficking.
Threat intelligence can aid in preventing human trafficking by identifying warning signs and potentially malicious behaviors. Through a compilation of crowdsourced keywords and search terms, researchers can use threat intelligence solutions, such as the Recorded Future Platform, to monitor and pull data from sources affiliated with the trafficking of persons. While a great first step, querying for such information can result in noise or false positives; therefore, we believe in the necessity of human analysts — knowing what to look for and where to look are essential for uncovering leads, building more effective queries, and setting up alerts. The Recorded Future Platform can serve as this pivot point for first responders, policymakers, and private entities in their prevention efforts by enabling research and analysis of human trafficking indicators across the dark web and other sources.
Key Judgments
Threat intelligence can help first responders and policymakers surface human trafficking indicators, better understand the scale and magnitude of the problem, and produce additional data sets to inform prevention and response measures.
Using the Recorded Future Platform to build lists of human trafficking keywords and searching them against a particular digital platform, as well as closed or open sources, can help surface deceptive posts, active lures, and potential trafficking situations to further alert first responders.
Internet-facilitated human trafficking has evolved. Traffickers have historically been known to use classified web pages but in recent years have begun expanding their recruitment and advertisement operations to free-standing web pages, social media, and messaging platforms.
Background
21 years have passed since the adoption of the 2000 United Nations Convention on Transnational Organized Crime and its Additional Protocols. Most countries worldwide signed and ratified the Convention and its Additional Protocols, such as the "Palermo Protocol" — the Protocol to prevent, suppress, and punish trafficking in persons, especially women and children. The Palermo Protocol serves as the foundation of the 4P paradigm, where "prevention" is about establishing comprehensive antitrafficking policies, programs, and other measures, such as research, information and mass media campaigns, and social and economic initiatives to prevent and combat trafficking in persons.
Human trafficking is also known as trafficking in human beings and trafficking in persons. Many scholars and practitioners commonly address human trafficking as modern-day slavery. There are many forms of human trafficking, but one consistent aspect is the abuse of the inherent vulnerability of the victims.
Forms of human trafficking include exploitation in the sex, entertainment, and hospitality industries, forced labor as domestic workers, and forced marriages. Victims are forced to work in factories, on construction sites, or in the agricultural sector, without pay or with an inadequate salary, living in fear of violence and often in inhumane conditions. Some victims are tricked or coerced into having their organs removed. Children are forced to serve as soldiers or to commit crimes for the benefit of the criminals.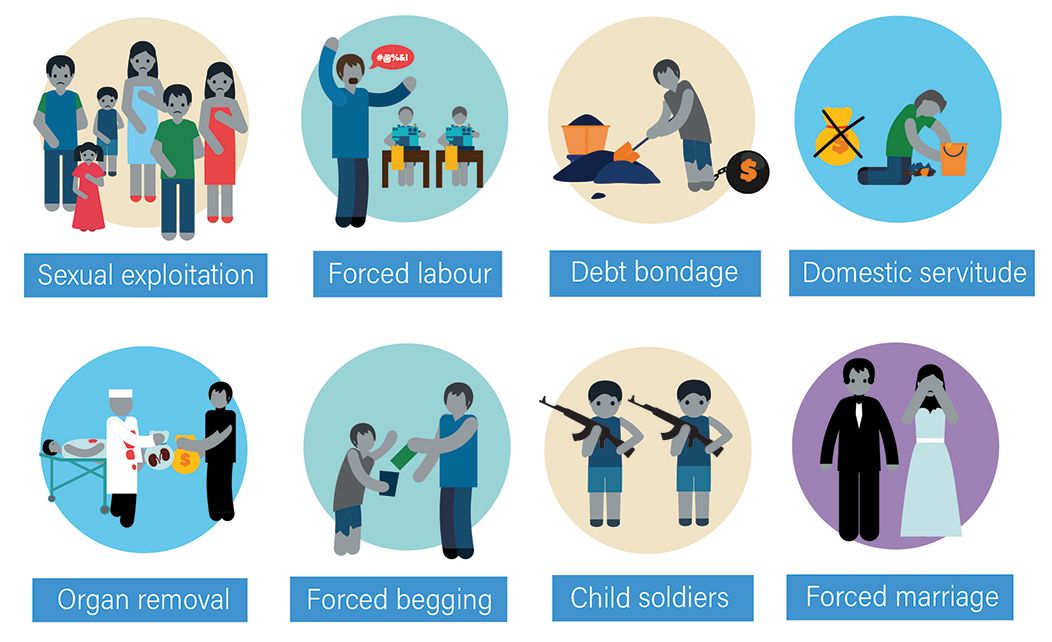 Figure 1: Forms of human trafficking (Source: UNODC)
Today, despite legislative and enforcement efforts, human trafficking endangers millions of people around the world. The United Nations Office on Drugs and Crime (UNODC) estimates that human trafficking is the third-largest international crime industry, ranking only behind illegal drugs and arms trafficking. Human trafficking earns profits of approximately $150 billion a year, which according to the International Labor Organization (ILO) may underestimate the actual scope of the problem.
Global law enforcement data provided in the 2021 US State Department Trafficking in Persons (TIP) Report indicates that 109,216 victims of human trafficking were identified globally in 2020, in contrast to the 40 million women, men, and children living in slavery-like conditions, according to the latest ILO Global Estimate of Forced Labour. These numbers underscore multiple issues — different agencies track statistical data differently, but most importantly, the TIP Report estimates are largely derived from official data provided by foreign governments and their law enforcement agencies (which can downplay the magnitude of the problem), while the ILO's estimates are based on national probabilistic surveys and aggregate data sets collected by the UN agencies. Still, the ILO considers their estimates to be conservative.
Tackling human trafficking goes beyond the competencies of law enforcement agencies. As a multi-dimensional crime, it requires a multi-faceted response from a wide range of actors. In any given country or context, various stakeholders are involved in eradicating human trafficking, including international organizations, government agencies, civil society organizations (both national and international), and private entities. Threat intelligence can offer additional visibility and assistance to first responders, policymakers, international, governmental, and nongovernmental organizations in their work to eradicate human trafficking.
Threat intelligence can offer proactive research, monitoring, and analysis of underground and open sources, traffickingsuspect websites, and communities. Threat intelligence research can, for example, be text- or image-based, allowing first responders and policymakers to surface crime, better understand the scale and magnitude of the problem in a specific region, and produce additional data sets to inform prevention and response measures.
Threat Analysis
Using Threat Intelligence to Prevent Human Trafficking
Human traffickers use online platforms for advertising, recruiting, and exploiting victims and marketing exploitative services. Victims are recruited through social media, messaging applications (apps), online classified ads, and deceptive job offers posted on various websites. According to the UNODC, webcams and live streams have created new forms of exploitation and reduced the need for the physical transportation and transfer of victims of sexual exploitation.
The Recorded Future Platform provides threat intelligence solutions that can assist in identifying deceptive posts aimed at recruiting or exploiting victims. In many cases, we need to know what to look for, which means we need to know the keywords and terms used by traffickers to lure victims or advertise exploitative services. First responders, law enforcement, and organizations assisting human trafficking victims and survivors know about human traffickers' methods, the terms they use, and the digital platforms they operate on.
Human Trafficking Keywords
Shared Hope International, a US-based non-governmental organization (NGO) that strives to prevent the conditions that foster sex trafficking, created a list of keywords and terms used by human traffickers. According to this and similar lists, people who are bought and sold are extremely commodified and are often described as items, such as "alien", "automatic", "bottom", "illegal", "lover boy", "meat", or "stock". Other terms posted in online ads that may identify potential trafficking scenarios can include "new arrivals", "fresh off the boat", "J1 visa arrivals" (which is applicable for the US cases), "no experience needed", "young needed", or "travel to get paid".
Editor's Note: This post was an excerpt of a full report. To read the entire analysis, click here to download the report as a PDF.